---
February 2014 - Pobblebonk sold - handover to new owner
Knowing how special Pobblebonk was, and believing that the covenant would limit its prospective purchasers, we were quite happy to wait until the right buyer came along. And she did! Di S. found our ad on the Trust for Nature website and made contact. One visit was enough and the sale has been completed.
On February 8 we visited Pobblebonk to meet Di and her friend Graeme and to do a symbolic handover. It was a moving and rollercoaster occasion. So much to impart and so little time but overall a wonderful occasion. Knowing that there could be no motorbikes, horses, vines, cattle etc. undoing this labour of love, thanks to the covenant, was a great comfort. And having people take over who were as smitten with the property as us was wonderful.
We couldn't be happier with the new owner. She couldn't be happier with her new property!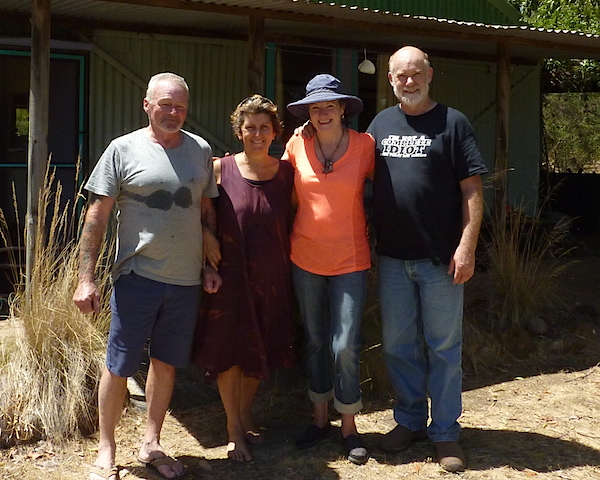 The picture below is of the wetland from the western end, taken on Feb 8. Amazing to think it is only 13 years old and prior to coming into existence was a sloping, grass-covered paddock of no particular merit. For anyone toying with the idea of any sort of revegetation or wetland project, 'just get on with it'. Before you know it, you'll have overseen a wonderful transformation.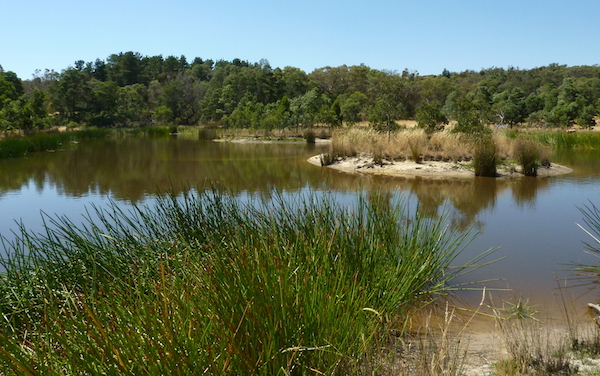 ---
July 2012 - Big changes - Pobblebonk for sale
In a remarkable and unexpected turn of events, we decided at Easter 2012 after a trip to Queensland to see the grandkids, that we could actually make the move there. We'd never seriously considered it before but events conspired to make it both possible and feasible. Ian got a job at the University of the Sunshine Coast which made it all possible. In a hectic six or so weeks, we sold our Ballarat house, packed up/disposed of many years of possessions and moved to the Sunshine Coast (Buderim).
As a result, we have put Pobblebonk on the market. The fact that it is covenanted was a huge factor. While knowing that it would limit selling options, we were determined to protect it nonetheless, and are very comforted that it can never be destroyed. It will continue to improve naturally. The planting was completed and will simply continue to consolidate. In many ways, it felt like our work was done and a good time to hand over to new caretakers to take it to the next stage. I can imagine a low impact house (mud brick, hay bail..?) looking down the property toward the wetland. Superb views and the joy of seeing it continue to flourish.
June 2012 - The property is now covenanted!

The great event has arrived. The final stages of having a Trust for Nature covenant placed on the property title have been completed and our work of the last fifteen years is now locked up in perpetuity. This means that the land cannot be farmed, grazed or otherwise interfered with - it must remain largely untouched other than for appropriate maintenance such as weed control and vermin eradication. There is an area designated for domestic purposes allowing a house to be built and normal living to occur but outside that area the land is a reserve.
April 2012
A year since the last update and quite a bit has happened. Growth on the property has been vigorous, both in the paddocks and around the wetland where we have some lovely reedy habitat developing.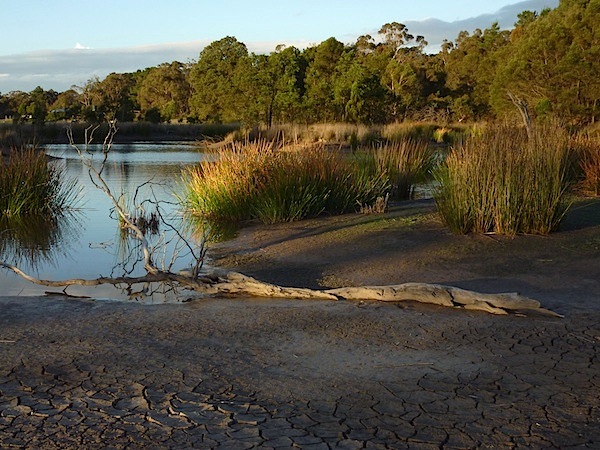 We've also put quite a number of logs around the wetland as well as planting dead branches vertically as natural bird roosts.
Again we've had good rain over the year. The wetland went into summer full and has gradually dropped over the next few months, which is the desired pattern for a wetland.
Little Kozzie, the last of our dogs, died during year. A foxy, he never realised how small he was and had a wonderful attitude - tough but really a little softie! He slipped quietly off to sleep courtesy of the vet after battling right to the end. A dear little fella who continues to be missed.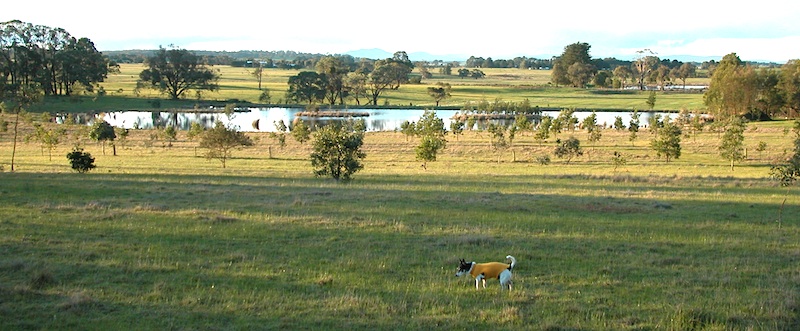 Kozzie in his warm coat, made from a jumper sleeve, in 2007. This picture underlines how extensive the tree growth has been in the last five years.
April 2011 - the wet continues
We've just come through one of the wettest summer periods on record. Our wetland has remained essentially full throughout the summer period. This is by far the highest level it's maintained since being built. The weather variations we've had over the last several years are remarkable. It was only about two years ago I was carting water into town in our 500 litre trailer tank and watering the garden with the fire pump. Lovely job on a 30 degree plus summer evening.
Ten year anniversary
January marked ten years since the wetland was built. I can still recall the excitement of hearing the bulldozer unloading from its low-loader up the road a bit then seeing it trundling through (just!) the gate. How time flies.
In that time we've also had extraordinary tree growth in the paddocks so the view of the wetland is largely obscured. This is a pity but the habitat the trees bring is what it's all about.
December 2010 - a year of very high rainfall
The drought has broken and we've had a number of severe 'weather events' over the last year. Everything is growing vigorously. We've had a number of occasions of high humidity, warm temperatures and lots of rain. Very northerly weather.
Wetland decadic anniversary
In January 2011, the wetland will be ten years old. It has changed dramatically over that time and is looking wonderful with lots of well established plant life and increasing bird activity. We've had ducks and grebes breeding and other birds calling.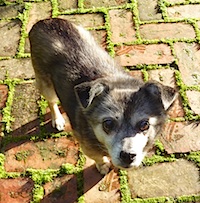 I'll make an effort to put together a couple of comparison pages of how it's evolved over ten years. The change is, of course, dramatic and we are often amazed at the changes when we stumble across older pictures. As well as the wetland development the tree growth in the paddocks has also been pretty dramatic.
Vale Jessie
Jessie, another of our dogs, died in November this year. Jessie went down quickly over just a couple of days. She was a little sweetie. Very cuddly and quite a companion dog, not to mention somewhat fascinated by food. She usually came for the walks around the boundary with us when here. At seventeen and a half she had a good life and was very alert and still bright right up to the end. (The pic at right was taken only a month or so before she died.) It's still a bit unreal that she's gone. Kozzie seems to miss her as they were great mates and often bumped noses in passing.
I have a lovely memory of the last time we walked around with Jessie. She was struggling a bit coming up the hill so I picked her up a couple of times. As I carried her, she seemed to really appreciate the gesture and turned her head back to give me some appreciative licks on the face. It was as clear a 'thank you' as any I've had from a human. (Even as I add this a couple of years later, I get that feeling in the chest and throat.)
We're now down to the last of the original four we had when we first bought the property. They've all enjoyed their times at Pobblebonk Palace in distinct ways.
January 2010 - Still dry but much better than recent years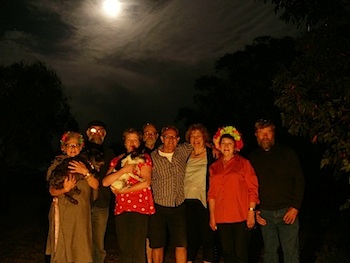 By and large over 2009 we still had lower than average rainfall but fortunately some months were actually above average so it's been a better year than for quite some time.
New Year's Eve: We had a lovely and memorable New Year's Eve at Pobblebonk Pastures. A wild and hot day with turbulent wind with a cool change late in the day followed by welcome rain. When the picture was taken at about 1am we had wonderful scudding clouds across a full moon. Great food, wine and company. A night to remember!
As a little side-note the picture was taken using a 50+ year old Coleman shellite pressure lantern for foreground lighting. As a child I went to sleep many times on the banks of the Murray, including numerous times at Ned's Corner, to the hiss of this wonderful old lantern. I obtained it when we were cleaning out my late Dad's shed, and after replacing the pump (still readily available as a new part for about $12) it works perfectly.
The wetland is looking great with many plants well into the self propagating phase. We've had good birdlife with ducks and grebes breeding and regular visits by cormorants and herons. Our eel is still around and there may even be more than one. They are hard to see apart from a flash of fin but they are aggressive eaters in reed beds so are quite easy to hear. We've also been delighted to find we now have four cherry ballart trees. These can't be propagated so must occur naturally. One is on our big island.
The revegetation across the paddocks is going great guns. There has been a great deal of self propagation of Black and Blackwood Wattles. The views of the wetland from the house are disappearing. The contrast with just five years ago is stunning where the paddocks were largely treeless.
February 24 2009 - Dry, hot and dangerous [updated]
South eastern Australia continues to have record-breaking drought while northern Australia cops massive flooding. The weather is indeed broken at the moment. Two weeks ago we had the horrific fires in Victoria that killed 173 people and destroyed something between 1,000 and 2,000 homes. High winds and temperatures well over 40 degrees C.
On the day of Black Saturday, Feb 7 2009, we went out to Toad Hall to make sure things were as good as possible if a fire came through. Clearing all leaf litter away from the house and gathering up any remaining valuables. By 9am the temperature was well into the high 30's with a nasty northerly wind so we headed back to town. After our fire in 2006 we had equipped ourselves with a fire pump, hoses, protective gear and 500 litre trailer tank. This would only be used for mopping up as defending our place was not viable. All day we watched the situation unfold with news of fires and us on alert to head out for mopping up if necessary. Fortunately it didn't impact us. The real horror of the loss of life only started to become known well into the evening and wasn't fully revealed for another day or two.
Yesterday a colleague left work early to return home, near Daylesford, having heard from a neighbour that a fire was burning nearby. An email this morning told me he eventually got back to his house at 3am to find the house saved but everything around burnt. This fire grew to around 3000 hectares and threatened Daylesford.
On our wetland front, things are looking very good. Growth is vigorous, both of wetland plants and paddock trees. There's now evidence of the wetland plants self propagating which is a nice stage to be at. We met our first eel in the wetland and have recently surprised between 50 and 100 wood ducks enjoying our hospitality. This is by far the biggest concentration we've seen.
Movie: In January I made a short video of the wetland. This provides a more interesting overview than static panoramas and is available here in three different sizes to suit your download requirements.
August 5 2008 - Nope, the drought didn't break
We've had a relatively good winter with rainfall approaching long term averages (at least for July) but catchments are still extraordinarily low and will require years to get back to the levels pre-millenium. The monthly averages have been very erratic. In Northern Australia they've been having very large rain events. With family on the Sunshine Coast, we're used to hearing remarkable stories (280mm over a few days) but the big falls are not happening here. There does seem to be a changing pattern more recently with almost daily showers.
The regeneration is going well and what was once a bare paddock is now heavily treed. We've just recently planted about 300 riparian plants after Di got a grant from a water catchment authority. This will boost the habitat around the edges and in the water. We're pretty much at the end of the planting, (famous last words) and are now enjoying some vigorous growth.
This is the first decent rain since the fire of 2006. Because very dry conditions followed that fire the regeneration was very limited so we're looking forward to what spring brings. We've had wonderful orchids in the past so are hoping for a special showing this year.
New panoramas - I've put a couple of new panoramas up of the wetland as at August 2008. The growth is now well established including lots on the islands. They are linked from the gallery page, near the bottom.
July 4 2007 - Drought broken? We'll see...
Good grief! I'm updating the diary.
We have just been through the driest and warmest summer on record. Much discussion of global warming. While I don't seriously doubt that global warming is a real phenomenon, this recent aberrant weather may be a glitch rather than a confirmed, steady pattern. There have been comparisons with the other ten driest years on record in the 1940's followed immediately by the ten (give or take) wettest years on record. Of course, that's white mans' records which are nothing in geological time. No doubting we have massive climate impact problems from human behaviour.
Through all this our wetland kept reasonable water levels. The channels around our islands did not dry out and along the borrow area in front of the wall the water remained at around 2 metres. We carted lots of water in to town to keep our Victorian-style garden going. A 500 litre trailer tank and fire pump proved extremely handy.
Despite, or maybe because of the drought, the growth on the trees on the property has been extremely vigorous. There are growth spurts everywhere. The sad part of this is that following the fire last May, we didn't have the 'normal' rain and much of the regeneration that would normally follow a fire just didn't happen. We think we lost large and small trees that would have recovered in a good year but simply didn't make it through the tough 2006/2007 summer.
Now that winter is here, we are enjoying some different joys of the simple life - wood fires, cooking on a slow combustion stove and steaming kettles.
Mouse the Dog
Earlier this year we lost our much loved old dog, Mousie. She made it to seventeen years and for the last ten had been hugely enjoying Toad Hall. Always keen to paddle and explore, she loved going out with Di to do 'tree work', when Di would water and tend the numerous small trees that she'd planted. We almost lost Mouse two years ago when she was extremely sick but she came good and enjoyed life for a bit longer. Mouse was one of those extremely smart, 'knowing' dogs. She had a way of looking into your eyes and communicating. She read situations and acted accordingly, anticipated and had a particular dignity and independence. If you've never known a dog like this, then your life ain't complete.
May 1 2006 - Update!
Well, it's been a very long time since the last update. That's not to suggest that nothing's been happening - just that the poor old website has been neglected.
The dry spell alluded to in the last update, almost exactly 2 years ago has continued. Along with much of Australia, this region has continued to have rainfalls well below average and periods of higher average temperatures than previously recorded.
Having said that, the month of April has seen rainfall close to, or even above average, and it's great to have moist paddocks and soggy ground again.
The growth across the property has been substantial since the last update and the wetland plants have really taken and are starting to form impressive habitat. There is plenty of natural propogation both by plants of local provenance we've introduced and others that have found their way into the wetland.
Fire Strikes
On Sunday March 12 a grassfire/bushfire started quite close to our property and ended up burning around 4000 hectares after passing our place. It burnt across the top quarter of our property and narrowly avoided burning our little shack (within about 10 cm of the doormat!). We arrived around 15 minutes after the fire had gone through (having set off from Ballarat for a relaxing visit without any idea there was even a fire burning) and spent the next 6 hours putting out embers and watching for flare ups. We finally enjoyed a very nice bottle of red about midnight, watching the remarkable light show as fence posts continued to burn in the paddocks and trees glowed and toppled in the night.
We lost a considerable number of trees and shrubs and are anxiously waiting to see what recovers. We also lost about half a kilometre of fencing. In contrast to others our losses were slight as one neighbour lost two houses and another all his sheds including machinery and vehicles. The wetland was in the part of the property unaffected by the fire but heavy use was made of the wetland by fire fighting helicopters (6Mb Quicktime) - it was a nice feeling that our water probably saved some neighbours' homes.
April 29 2004 - Long dry continues
The very low rainfall that has been experienced over much of South Eastern Australia for the last eight years seems set to continue. We've had a very dry summer with rainfall well below average and there are some early warnings that there's about a 50% chance of another El Nino developing.
The dry doesn't have a major negative effect on our place as Australian flora is generally tolerant of dry conditions so the plants are already well adapted.
Water levels in our wetland are about right for the time of year, with the flat areas quite exposed and plenty of water in the channels and around the islands.
The growth around the wetland is going well with milfoil popping up everywhere, various rushes and sedges spreading, pond weed, marsh flowers and water ribbons. We've also found a number of milky beautyheads, water buttons and daisies. Many of these plants were introduced by us and it has been very pleasing to see how they've propagated.
Bird life has not been so evident, but we've had grebes breeding (2 pairs), white faced blue heron, black fronted dotteral, plovers, cormorants (little and pied) and wood ducks. We've also noted a significant number of small birds using the wetland surrounds such as blue wren, gold finch, red browed firetail, yellow faced honeyeater, grey fantail. We've also noted a mudlark nesting in beautifully constructed nest nearby. A hawk or falcon has also been spotted.
We have kangaroos in numbers up to about 25 - they have been observed drinking from the wetland and their footprints are visible around the edges.
We have a problem with foxes, with them strolling around in broad daylight. We haven't decided on a strategy for dealing with them as a gun is not a preferred option (for us) and baiting is a major undertaking.
January 4 2004 - Hot and happening!
We've just returned from four days in residence and lots has been happening. We had hot (low to mid 30's) temperatures with clear skies. The water levels remain quite high and the plant growth has been very good. Reeds are well established and a variety of smaller wetland plants are emerging - some from our planting last autumn and some spontaneously.
We planted out a lot of plants that have been developing in an old bath over the last year plus some from our pond at home - these include pond weed, water ribbons, tall spike rush, milfoil, plantain, marsh flower and some other odds and sodds. It was very pleasant wading around in the warm water. We have put guards over most the more tasty speciments as the ducks can do a lot of damage to newly emerging plants.
Our hybrid pair of ducks have been present constantly and we have been delighted to discover that we have at least 2 adult grebes and 4 babies. They appear to have made a nest in a small clump of reeds and have been interesting entertainment as the parents teach the young ones to feed.
The hybrid ducks have been feeding on what look like tadpoles that are popping out of the water - they emerge vertically about 5mm out of the water.
We've also twice had visits from about 15 wood ducks that have also been feeding on the tadpoles. For the first time, the wood ducks have remained when we've walked nearby - albeit going to the other end of the wetland.
We were thrilled on our last day to observe the arrival of 5 pink eared ducks - distinctive with their bill shape, markings and unusual chirruping cry.
Early November 2003 - Full again!
We've had some reasonable rain over the last few weeks and after one weekend during which 42mm fell over about 8 hours, the wetland is now full again. The large exposed flats are now under water and it will be interesting to see how the plants recover from their long hot spell.
We have a resident pair of shell duck hybrids (some curious cross breeding?) and a pair of little grebes. We have had a single grebe for over a year - it appears to have found a mate.
Rainfall is erratic - monthly averages continue to above and (mainly) below average so we could still be in for a fairly dry summer period.
August 18 2003 - Long time between drinks!
Since I last added something here we've been through the culmination of a seven or so year drought. The summer was the driest for many, many years but the good news is that we seem to be on the way out of it. El Nino is officially over and while rainfall patterns are generally still below average, the trends are all going in the right direction. Despite this, we still had good water levels in the deeper sections of the wetland and no real prospect of it drying up completely.
It will be interesting to see how our plants recover from the harsh, dry summer after they were planted. Many have obviously survived the dry spell and some (such as the daisies) seem to have thrived on those conditions. The big question is how resilient the more delicate plants are - spring will provide the answer.
It seems that one of the ongoing debates in wetland circles is how interventionist people need to be. One school says 'don't plant much because plants will appear anyway' while others are for vigorous and extensive planting. We have certainly observed some terrific growth occurring of its own accord. It'll be interesting to observe what happens over the next few seasons.
Di visited the wetland today and the water levels are now on the up again. We've probably had a rise of about 3-4 centimetres from the lowest point. The ground is now quite moist so any sustained rain will start to run off.
October 2002 - Visit from Tim D'Ombrain followed by extensive planting of wetland
Earlier this year we had arranged for Tim D'Ombrain, a local authority on wetland creation and rehabilitation, to come as a consultant and provide us with a plan for the planting up of our wetland. He turned up nice and early and we spent a very interesting few hours wandering around, seeing the place through his eyes, before heading down to the wetland. He had also brought a Kombi load of plants so these were unloaded. There were literally hundreds of plants so after Tim left we spent the afternoon planting more rushes, poas and other things than a sane person would want to see in a lifetime. Di followed up with another extended day's planting a few days later and we still haven't finished. In anticipation of a dry summer, we'll keep some plants back for planting in autumn.
Apart from the bulk quantities planted, we also put in a lot of small specimen wetland plants. On returning a few days later we discovered that the birds had already discovered these tasty little numbers so lots of crude wire guards were made out of bird wire. It is a difficulty to work out where and when to plant the wetland plants, given the inevitable variations in water level. This will be a test of how rugged they are and given the fact that they've evolved to grow in harsh wet/dry conditions we are hopeful that they'll survive and thrive.
September 29, 2002 - A bit of rain
Soon after I wrote the last entry we had a good day of rain. A bit over 20mm in the gauge and the wetland is now about half a metre off full. In the last day or two we've had another 10-15mm. With the ground reasonably wet the gentle run-off continues for some days after a reasonable fall like that earlier this month. Despite this, we're still in an extremely dry pattern. We've also had a number of days with gale force winds over the last month - no serious damage for us other than a limb on a wattle down. Greenhood orchids still plentiful.

September 4, 2002 - Dry Period confirmed
The rainfall results for August confirm that we are in a very dry spell. The El Nino effect is well and truly evident with reports already of crop failures around the State and declaration of drought areas in the North imminent.
Water levels are quite high in the wetland. Not as high as this time last year but still quite high. We recently spent a week in situ and spread straw around the tops of the islands where erosion is evident. The water lapping in windy conditions has washed topsoil off and the underlying clay is exposed. We also transplanted reeds from the wet areas in the paddock to the banks of the islands. The idea is that the straw will contain the erosion until the reeds get established and form a living barrier to further erosion. It was interesting to see how quickly ducks took advantage of the straw - it seemed to attract them almost immediately. It wasn't clear whether they were looking for food in it or seeing it as a possible nesting/roosting material.
We noticed patterns of bird behaviour over the week - we have a pair of grebes, a pair of shell ducks and a pair of black ducks that come and go regularly. At night we can hear the ducks so at least some of them are roosting on the islands overnight. We haven't inspected them at night as a torch/spotlight seems to seriously agitate them. A neighbour has also recently cleared a very large stand of gorse behind the wetland, removing a major fox and rat habitat. We had heard foxes at night and Di even saw one boldly strolling along the edge of the wetland during the day so the removal of this protection should ease that problem.
We've also had lovely clusters of greenhood orchids for some weeks - they are becoming more prolific each year and thrive in the lightly wooded areas.
May 21, 2002 - Reasonable Rain
It has been quite dry since February. The previous entry was the last substantial rain this year. We've had a few falls of 10-15mm but they've been pretty few and far between. The autumn break may just have arrived with days of showers and some quite good rain. No frosts yet so it's reasonably mild with temperatures around 14-18C recently, only just dropping to 9-12C over the last few days.
The wetland water levels have dropped and exposed quite a bit of the surrounds. It's quite bare at present with few reeds and water plants yet. The regrowth of sedge and small plants around the edges is quite good. The kangaroos seem to have incorporated the wetland into their patterns, with lots of evidence of grazing on the new growth on tracks and along the water's edge.
Earlier in the year we experimented with transplanting reeds and they seem to have taken to their new locations quite well with new growth in evidence.
The birdlife around the wetland is reasonable with Black Ducks coming and going and apparently roosting there at night. We don't see much of them during the day but certainly hear their calls at night. The froggy chorus is extraordinary - obviously they love their situation.
February 10, 2002 - Heavy Rain
After quite a long, dry spell we have just had around 100mm of rain over about two days. This has completely refilled the wetland. In a way this is a bit disappointing as we were interested in seeing just how far the water receded over a full summer. However, that's what natural cycles are all about, I guess. As the water dropped it was pleasing to see the large area of shallow water with much of it only about 100-150mm deep. This is one of the desirable attributes of a good wetland - large shallows - along with the periodical raising and lowering of the water levels.
I have pictures taken on February 2 and 9 that show the changes in one week and will publish these soon. I'm also looking to rework the gallery into logical sections so that not all thumbnails need to be loaded when you go to the gallery.
January 12, 2002 - Mild Summer
Just back from Christmas in New Zealand. Incredible contrast between the landscape in the South Island and this very typical Australian grassland. New Zealand is very beautiful but we do love the Australian landscape.
This summer is proving to be unusually mild but without significant rain thus far. It's now about a year since the wetland was built and we've seen quite exciting variations.
We are gradually seeing more birds although only a trio of Grebes have so far moved in permanently. We've had Blue Cranes, Wood Ducks, Black Ducks, Cormorants, Herons, Plovers (noisy buggers) and Swallows, usually at dusk.
October 20, 2001 - Opening
We held an informal opening of the wetland on Saturday October 20 to which quite a number of friends came. Jenny Sedgwick, a worker with Natural Resources and Environment and the first of a number of Natural Resources and Environment/LandCare type folk who gave encouragement in the early stages, opened the wetland for us. Friends provided music and a lovely still and mild day turned into a beautiful dewy night as the fire burned on, the music rose and fell and the talk ticked over late into the night. All in all a worthy opening - we hope the birds appreciated the occasion and are packing their bags to move into their new habitat.
August 20, 2001 - Water in Abundance
Despite a generally dry winter thus far, and the driest July on record for this district, the wetland is about 25 cm (1 foot) off full. The water is now covering almost all the shallow area cleared of topsoil and is creeping back onto the grassed areas. There is increasing bird life and so far we've observed wood ducks, brown ducks, shell ducks (one pair), a cormorant, a blue crane, a little grebe (dab chick) and chats. The frogs have also moved in and the noise at night is fantastic.
Surface regrowth has been very good with the bank and most of the cleared surrounds quite well covered with native yams and grasses. The Gallery has been updated with some images taken around August 12. The water level has risen significantly since then.
We woke recently to the delight of seeing a mob of kangaroos drinking and grazing at one end. While we have quite a few roos about this is the first time we've seen them actually drinking. There is plenty of evidence of them from their footprints and droppings all around the wetland. There are even droppings on the top of the earth piled at each end of the cleared area - the roos must like the view.
In other areas of the property, and particularly in the acre of so of indigenous growth, we've seen the most prolific number of Nodding Greenhood orchids, (Pterostylis nutans) in five years. When walking through the area it requires a conscious effort to avoid walking on clumps of these delicate little plants. I'll get some pictures of them up soon.
May 6, 2001 - Wood Ducks Cavort!
We were very excited on Sunday to see a dozen common Wood Ducks (Chenonetta jubata?) hooning around the wetland. They were swimming around, climbing onto the islands and grazing on the new shoots sprouting from the bank. This is the first time we've seen water birds using the site although we've seen a bit of what looks like duck poo around.
We also planted up the islands with Sweet Bursaria (Bursaria spinosa) and Tree Violets, along with a couple of Snow Gums (Eucalyptus pauciflora).
April 30, 2001 (Around 3 months after construction) - Serious Rain!
While away for a week in northern NSW we heard vague reports of heavy rain in Victoria. Not daring to hope for too much, we were absolutely delighted to find 90mm of rain in the gauge on April 29. Even more exciting was that we now have really serious water in the wetland. The islands are now real islands and in some spots the water is up to 1.5 - 2 metres deep. Canoeing around and between the islands is definitely the way to travel. The water is at levels we thought we might achieve after 12 months - and we are still to enter the traditionally wet winter period. As usual, there are new pictures in the Gallery.
We have a distinct green sward over much of the disturbed area where topsoil has been spread. The bank is quite green with the most vigorous growth being native yams. There are also showings of green on the islands. The kangaroos seem to have taken the rejigged landscape in their stride (hop?) and we were thrilled to see a big mob on Sunday. They hopped along and over the bank as if it had always been there. There are also roo tracks on the banks.
One other highlight of Sunday's visit was a flock of about a dozen long-billed Correllas digging up the yams from the bank. Other than the ubiquitous magpies, these are the first birds we've seen actually using the wetland surrounds.
March 23, 2001 - Rain!
After the driest February on record for this district, we've finally had some good rain. Since March 16 we've had 55mm of rain with more forecast. This has been enough to result in some real water in our wetland. Go to the Gallery to check out some pictures taken on March 22. What's even more exciting is that the water now in the wetland has come from the immediate catchment area. The paddocks are still soaking up all the rain that falls so when they get saturated, the runoff into the wetland area will be fantastic. I don't think there'll be any problem filling it, despite our trepidation about the scale of our undertaking.
Only a week ago the people removing our excess topsoil finished their work. A week later and they wouldn't have been able to get to it without making a hell of a mess of the wetland surrounds.
January 24, 2001 - It's All Finished!
The work was all finished around lunchtime today. We weren't there to see the dozer leave but when we came out to have a look around later in the week we saw the extraordinary results. A very large wet area (compared to what we had imagined), two islands, a promontory and two big piles of topsoil waiting for removal.
We visited on Friday, January 26, (Australia Day), and were keen to see how things looked after some reasonable overnight rain on Thursday night. The rain gauge showed 20mm, just enough to saturate the clay and leave a couple of small puddles (our first water!) in the bottom.
The Gallery will have all the gory details in due course including a set of pictures covering all stages of construction.
A Word about MidWest Earthmovers
We have been extremely impressed with the team from MidWest. Rob Lakey was our original contact and the person who assessed the job and provided the quote and Clint Crimeen drove the bulldozer from start to finish. Clint's skills with the bulldozer were fantastic and he has literally sculpted a 'work in earth' out of a flat paddock. There were three things that stood out in their work.
Their professionalism,
Their painstaking efforts to ensure that we provided input at all stages and got the wetland we wanted,
Their sensitivity to what we were doing.
We'd unreservedly recommend them. Can't say much more than that.
January 22, 2001 - It's All Happening!
Last Thursday, January 17, the crew from MidWest Earthmovers arrived. After re-surveying the site and marking out the proposed bank they brought the bulldozer down the road and through the front gate (with centimetres to spare). We'd marked out the track to the wetland site and Clint managed it with ease, avoiding numerous small trees on the way.
The first job was to strip much of the topsoil from the areas that will be flooded. We had deeper topsoil than anticipated and have left enough for healthy regrowth in all the areas that will be subject to flooding. We will be able to sell the excess topsoil to help offset some of the cost of the wetland development.
With the topsoil cleared, work began on the wetland bank. The next couple of days were spent forming the bank from clay pushed up from an area immediately in front of the bank, (known as the 'borrow area'). This will give a deeper area of water at the foot of the bank with the much larger 'flood plain' relatively shallow and subject to wide variation in water levels. We've also mapped out two islands, one fairly high and the other subject to immersion at high water levels. This will provide more variety in habitat and increase the potential breeding possibilities.
As I write this, Clint is finalising the clay core of the bank prior to covering it with the stockpiled topsoil.
The next and final stages (less than a day's work) are to finish forming the islands and to do a bit of shaping of the bank. After that, it's a crash course in raindancing and the beginning of the planting regime.
December 30, 2000 - Poor Followup Rains
Unfortunately the good Spring rains mentioned below have not been followed by any more significant falls. We are now in a very dry and hot Summer with rainfall dropping back below average. The country has dried off quickly and the amount of brown grass is more typical of early February than late December.

November 28, 2000 - Excellent Spring Rains
After three very dry seasons, we've had excellent late winter and spring rains over the last two months. One weekend recently we had 45mm of rain and took great pleasure in wading through the water flowing across the paddock. It was good to see the water flow with respect to the survey pegs marking the site of the retaining wall. It's just a bit frustrating watching that water keep on flowing instead of filling a wetland!
We have also received written confirmation from the Pyrenees Shire Council that we do not need a permit to construct the wetlands. The area we are in is in a Rural Living Zone, not subject to an Overlay of the Pyrenees Planning Scheme and this fact, combined with our block being larger than 2 hectares means that no permit is required. The letter also acknowledged that the fact of us working with the Department of Natural Resources and Environment and LandCare was a positive factor.
June 25, 2000 - No Luck with Funding Submission
We found out recently that our funding application was unsuccessful. The funding was for work with the natural environment and our proposed earthworks didn't fall within this definition. It was a bit unfortunate that the funding guidelines made no mention of this. However the process of thinking the project through for the submission has been a very useful exercise.

May 29, 2000 - Submission for Funding Sent Off
Today we posted off our submission to the Australian Bird Environment Foundation for financial assistance to establish our wetland.
Update: We have had our application acknowledged and will know by August 31 whether we've been successful.
May 27, 28 2000 - Snow!
An extraordinary cold snap across southern Australia has resulted in extremely cold conditions. We had two falls of snow on the property over the weekend - not enough to settle but spectacular nonetheless. I suspect this would be a once in 20 year event. We have a candlestick in the barn with four candles completely inverted from melting in 40 degree Celsius heat. Bit of a contrast!
May 14, 2000 - The Website
This website comes to life! The first bare-bones version of the site is created. This is happening in conjunction with preparing an application to the Australian Bird Environment Foundation for funds to assist with the earthworks required to create the wetland.
April 14, 2000 - Permits and Legal Stuff
Calls to the local council confirmed that we did not require a council permit for our proposed works. We were advised to speak to the relevant water authority. They also advised us that no permit was required as we were not interfering with a permanent waterway. Great relief!
February 10, 2000 - Visit by MidWest Earthmovers
We had a visit from Rob Lakey of MidWest Earthmovers to look at our site and prepare a quote. Rob listened to our plans then wandered around the paddock with his damn-near magic laser level and roughly plotted the high waterline for the proposed wetland. He hammered pegs into the ground to leave a permanent mark of the limits. There were two fascinating observations: how inaccurate the naked eye is when it comes to estimating levels; and what a perfect location we have in terms of catchment. It was very exciting to be able to see the rough shape of the wet area which was quite a bit larger than we'd anticipated.
---