blended learning
interesting and thought it worth sharing. The statement "One of the major threats for blended learning is the lack of knowledge of blended learning authors about their learners" is really important for UB international programs in particular, where there are failure rates sometimes as high as 80%. I also found the following report on
ePortfolios (2.5MB Word Doc.)
really interesting. IK
[ add comment ]
|
permalink
|





( 3 / 1321 )
---
Learning and Teaching Conference
The annual UB Learning and Teaching Conference is on this Friday. It's looking like a very stimulating program with an emphasis on flexible learning. There will be plenty of technology around but we're trying to strike a balance between talking about the social elements as well as the tech toys. I'm quite involved so that's been taking a bit of focus.
Learning Environments
We have now advertised two of the positions in the new Learning Environments project. The Flexible Learning Technology Officer (to explore, implement and support a range of technologies, from server level applications like Sakai, LAMS etc to standalone technologies) and the Learning Management Systems Support Officer, the support position for Lloyd Stinton managing Blackboard administration.
I still need to finalise the PDs for the Learning Designer(s) and advertise those. This has been very difficult with HR and I fundamentally disagreeing on the appropriate levels for these positions.
Funds for eLearning Interest Group
The Learning and Teaching Committee agreed broadly with our proposal for the expenditure of the $50K. We have $20K for an audit/knowledgebase of flexible activity at UB (to be web accessible, flexible and updateable online to keep it current), $20K for exploring and evaluating technologies, both hard and soft, and $10K for some intensive workshops on technologies. I'll be keeping an ear out for burning interest areas from the conference and suggesting those as themes for these workshops. There is also a bit of money for staff to visit other institutions to explore specific technologies/approaches/practices.
We will have some sort of low impact submission and evaluation process for any funded activities/purchases. As an early initiative, I'll be following up a trial of Elluminate, a virtual classroom system.
That's about it for now. Just give me a call on X9585 if you'd like to know more.
Ian Wright
Manager, Web Services and Learning Environments
[ 2 comments ]
( 3 views ) |
permalink
|





( 3 / 1409 )
---
PBS documentary
shows what happened when a guy working in an IT firm in India set up a computer in a "hole in the wall" facing the slum next door. Almost immediately, children began using the computer and within a day they'd taught each other rudimentary internet skills.
Worth watching if you can find a spare 8 minutes.
rose grozdanic
[ add comment ]
|
permalink
|





( 3 / 1231 )
---
Link to movie of ASMS and an innovative teaching space at UQ
This is a big (26Mb) Quicktime movie so don't try it from home without broadband.
On Wednesday June 27, Leeanne Pitman, Carmel Grant, John Dixon and I (all from Information Services) went to Adelaide on UB business. The trip included a visit to the Australian Science and Mathematics School that is located on the campus of Flinders University. This is an extremely unusual secondary school covering years 10-12 with a strong emphasis on (yep!) Science and Mathematics.
Their website is at
http://www.asms.sa.edu.au/
so you can read about it there. We went to look at it for some background to the planning for the Technical Education Centre being established on the SMB campus. The configuration of teaching spaces, management of students and curriculum are all quite different to a conventional school. We were fascinated by what we found. Not for everyone, or for all teachers but an exciting and stimulating environment. The openness of the spaces, the overlap of activities and the general hubbub were testament to the capacity of the current secondary school cohort to operate in visually and aurally busy environments seemingly without loss of concentration, something others of us find challenging.
I have taken some video footage and will edit it into a short presentation soon. Keep an eye on this spot for the link to the video.
Posted: Ian Wright
[ add comment ]
|
permalink
|





( 3 / 1367 )
---
BBC
will available for free on-demand download from the end of July.
Another page that I subscribe to that has some interesting articles at the moment is
elearningeuropa
. The EU is putting a lot (millions) of Euros into eLearning and open learning.
IK
[ 1 comment ]
( 2 views ) |
permalink
|





( 3 / 1389 )
---
Some Good ProgressFunding from Learning and Teaching Fund
I attended the last Learning and Teaching Committee meeting and spoke to our proposal (see link to original document below) for using the $50K we'd been allocated. The Committee approved our plans and provided some constructive feedback. I will rework the document very soon and post the modified version here. The key components were approved but with some slightly altered priorities.
I'll be looking to the next eLearning Interest Group (eLIG) meeting to set in place plans to start implementing the proposals.
Learning Environments Positions through HR
With the exception of the Learning Designer position, the other three positions have been classified at agreed levels by HR. This clears the way to advertise these positions. This will take a couple of weeks and we'll need to ensure that the timing allows for maximum exposure.
While the views of HR and me on the appropriate level for the Learning Designer role are different we have a way forward with the classification being a HEW 7 but with an option for a loading for experience and expertise. This may get the position to a level that will attract applicants of suitable calibre.
Staffing Illustration
The following image is a work in progress of the blend of existing and proposed positions within the Learning Environments project. Some of the titling will change as I'm working with an earlier image.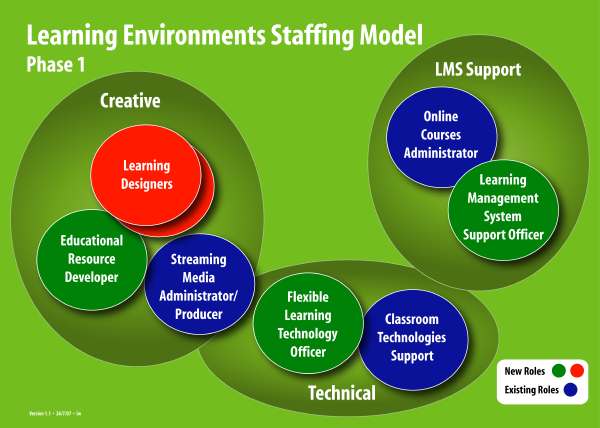 Posted: Ian Wright
[ 1 comment ]
( 36 views ) |
permalink
|





( 2.9 / 1342 )
---
Meeting Times and Participation Rates
Given the relatively small turnup at the last couple of meetings we're wondering if the time is a problem for people or if there's some other reason. Please email me with your feedback and suggestions for more suitable times, themes, presentations, locations etc.
Learning and Teaching Funding
Last year we were allocated $50k in funding from the Learning and Teaching Fund. DVCAR was keen to know what this has been spent on and the answer is, nothing yet. We discussed some options at the meeting and followed up with another discussion on Friday. I have put together a proposal that has gone to the DVCAR and which I'll be speaking to at the Learning and Teaching Committee meeting on Tuesday next.
We can initiate these projects very quickly and following Tuesday's discussion I'll let you know how we'll be proceeding.
Get the document
from this link
.
Learning Environments Project
Work is progressing on the Learning Environments project. I have just finished the PDs and am trying to get them through HR at the levels I know they need to be at. This is proving difficult but I think we'll get there.
I'm working to move my two page overview document into a project management format and when that's done, I'll make it available. I was to speak to it at the Vice-Chancellor's Senior Team meeting next week but it's been moved off the agenda for now. The funding has been approved so now it's just all the grinding administration to get ready to employ people.
The roles again are
Learning Designer(s), Learning Technologies Support Officer, Educational Resource Developer and Learning Management Systems Support Officer.
The last is to understudy Lloyd in the administration and support of Blackboard.
Access to eLearning Mailing List
At present you can't access the eLearning Mailing List I've set up in Groupwise. I can make it available to you on request so you can post to the full list. Does anyone want this access? Does anyone not want this done? Let me now either way and I'll make a benevolently dictatorial decision.
Hooroo
Ian Wright
[ 1 comment ]
( 1 view ) |
permalink
|





( 3 / 1169 )
---
Ning
which is a great social networking page that allows blogs, forum, video, pics etc on a theme. I have a travel page at
KazbaahNing
by way of example. I can see it being really useful for group projects. Another great new service is
teamsnap
. This is a page for human movement - it supports anyone trying to organise an amateur sports team.
Finally, I use wiki pages a lot. I find that students love them, particularly if you include a sandpit (a page where they can experiment and share information). I use pbwiki but there are many free wiki hosts. I thought we could perhaps consider attaching a wiki to this blog. This is an
example
I have set up. I have embedded a video on it that is about Web 2.0. If anyone wants to have a go at editing the page the password is just ballarat. I use both blogs and wikis all the time and they both have strengths and weaknesses. Blogs are orderly and a great way to present weekly information for a class, but I find they are not great for encouraging participation. They are more formal and I find students can be shy about making entries. Wikis are great for participation, my students love them, but they can look like a dogs breakfast! Cheers.
Ian K.
[ 1 comment ]
( 31 views ) |
permalink
|





( 3 / 1305 )
---
Media Streaming, Update on Resources for eLearning, Discussion on BlackboardMedia Streaming Demonstration - Eammon Jones
Demo of UB's Media Streaming System: Starbak, by Eammon Jones, Media Streaming Administrator/Producer. Now's your chance to see what this is, does, can do, can't do.....
Update on Learning Environments Project & eLearning Staff Resources - IanDiscussion: Blackboard at UB
led by
Phil Taylor, School of Business
Phil has submitted the following as background to his discussion:
"
The School of Business is collecting and reviewing all teaching and learning materials for distribution to partners and use on Blackboard. A number of serious issues regarding the quality of existing content have been uncovered. The primary concern is copyright restrictions on the use of publisher slides and amendments made to them. "Lecture notes" based substantially on publisher slides cannot be posted to Blackboard without time-consuming and/or costly permissions. Even in the cases where slides are the sole work of the lecturer, they are usually just "prompts" to aid in face-to-face delivery. The School will continue to use its Moderated Materials Website to distribute these "teaching aids" to guide Partner lecturers and to help ensure integrity of the Unit when delivered at other locations. But these "teaching aids" are not really suitable for delivery to students through Blackboard as "lecture notes". It is a timely opportunity for a total rethink about Blackboard and the quality of "learning resources" we intend to develop.

In the meantime SoB will only use Blackboard at Mt Helen in TP3. The minimum requirement is to deliver core documents such as Unit Outline, Unit Description and assessment tasks. This is obviously much less than was expected of the Blackboard investment.

It is assumed that Blackboard is intended to be part of a "blended learning" experience for students, where face-to-face teaching is supported by comprehensive "learning resources". In other words, the SoB Blackboard focus is not on a distance education model, but rather intended to go some way to ensure consistency and fairness of access to the same high-quality resources no matter what the delivery mode or where the location. This is critical for the SoB brand, quality assurance and accreditation. In this regard, Blackboard and other web technologies are assumed to be part of the solution, but they also spotlight the deficiencies of current content.

To use Blackboard as a document delivery system misses the point that the web technologies are a new medium requiring a rethink about what constitutes comprehensive or high quality "learning resources". The print paradigm is fading. Just rewriting "lecture notes", downloading tutorial tasks or reading about assessment in the Unit Description is not nearly enough. The potential for interactive engagement, podcasting and vodcasting, whiteboards, wikis and blogs suggests it is time for stategic refocussing. There is a need to establish what will be best practice pedagogy and standards.

The School of Business has quite independently of eLearning Interest Group started to address and quantify the need for professional input and resources required to "update" our offerings. The School is planning a workshop to explore examples of online teaching and learning, to distill and adapt to suit our "blended learning" approach. The goal was to look at the feasibility of establishing a learning development unit employing an instructional designer with graphic design support. A proposal and funding request is to be put to the DVC. It is assumed that each School has wrestled with the implications and frustrations of Blackboard during TP1 in a similar way. Gathering existing content, creating folders, letting lecturers explore the new medium independently, and watching the innovators go their own way.

The centrally-funded support for a new professional learning design unit with a senior Learning Designer mentioned in El-Blog is a welcome development. The School would like to align its initiatives in this context. Perhaps it may lead to an extension of the learning design unit to have support embedded within each School?

I look forward to participating in the next eLearning Interest Group meeting.
"
Posted by Ian Wright
[ add comment ]
|
permalink
|





( 3 / 1286 )
---
Any chance you have a podcast or vodcast of SaeRa's second life presentation given at the last eLearning group meeting?
Thanks
Sally :)
[ 2 comments ]
( 38 views ) |
permalink
|





( 2.9 / 1278 )
---
Back
Next