We have one remaining issue at SMB, which is the second screen not being operative. This is waiting on a video extender/adapter that will enable the connection of the screen. This isn't a show-stopper and we hope to have it working in the next couple of weeks.
We will be scheduling training very soon so look out for the notices.
You can read more about this system at
the Access Grid page
.
[ add comment ]
( 3 views ) |
permalink
|





( 3 / 1810 )
---
Working with a very helpful and highly skilled expert in Corporate Information Systems, whose name I can't reveal for fear of poaching, this opens the door for a fully automated process in time for Semester 2, 2009.
Previously a very large amount of manual work was required to achieve the same result and this inevitably resulted in slower than optimal service and some human errors. When implemented, this system will run nightly updates and will reduce any errors to errors in data which will then be fixed at the source.
The learning that has taken place through this process will also be of value in the future whether or not our LMS review results in us staying with Blackboard or moving to another LMS.
[ add comment ]
( 8 views ) |
permalink
|





( 3 / 1849 )
---
We've also announced the appointment of Adam Barbary to the team.
Soon to come is an overview of our Web Development project.
[ add comment ]
( 3 views ) |
permalink
|





( 3 / 1987 )
---
1. Further engagement with staff enthusiastic about the prospects of incorporating online elements into their learning programs. We've already had some great success with this during 2008, and now hope to capitalise on the positive outcomes we've helped to achieve and goodwill we've generated by taking things a step or two further.
2. Introduction of drop-in sessions based in Higher Education schools. We plan to base ourselves in your school for half a day every two or three weeks so that you can just pop-in to ask random questions, see demonstrations, or get expert advice. We'll be coordinating with each school to make this as convenient as possible. Remember that you can still call us for assistance in your office at any time.
3. Development of an eLearning course, showcasing various techniques and tools available for online and blended learning. An idea that dates back to April 2008, the course will be open to all academics and will showcase some of the pedagogies, technologies and support resources available. You'll be able to experience best-practice eLearning as a student, whilst learning strategies and tactics that can also help to improve your own courses' facilitation.
Watch this space!
[ 3 comments ]
( 216 views ) |
permalink
|





( 3 / 1995 )
---
This site potentially exposes UB resources to a huge international audience. In addition to teaching resources we anticipate marketing and promotional material also be being uploaded.
To access the site, a user needs to have Apple's free iTunes installed. (All SOE PCs have iTunes already.)
The software is available from:
iTunes Download Site
Once installed, the user runs iTunes and chooses iTunes Store from the left hand menu. Search in the iTunes Store for "
iTunes U
" or use the link on the left of the main page. Explore from there.
When you get to the iTunes U site, you'll see something like this: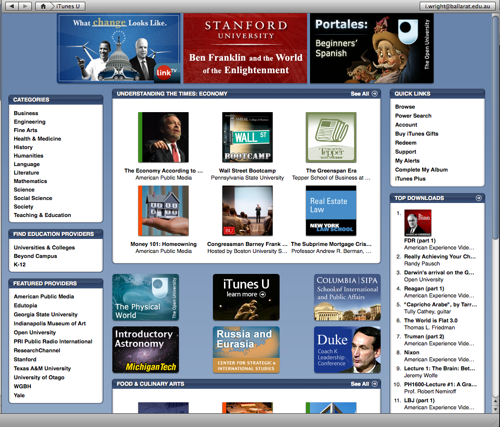 Some key points:
• iTunes is available free for both
Windows
and
Macintosh
computers.
• You can view and save content to the computer from where you can listen to/view it. You
do not need
an iPod or any other device beside the PC to listen to/view downloads.
• The UB site is not yet active as we undertake the configuration and set up.
• Academics will have control over whether their material is restricted to the UB audience or an unlimited global audience.
• When the system is configured and available the LEWS team will develop support resources and make them available through our
LEWS Staff Resources Site
.
[ 2 comments ]
( 140 views ) |
permalink
|





( 3 / 1530 )
---
The site is at:
medusa.ballarat.edu.au/lews/drupal/resources
It can also be accessed through the main LEWS site at:
www.ballarat.edu.au/lews
The resources are being published through Drupal, an open source online environment that provides a range of Web 2.0 services. This will shortly be available for the use of teaching staff at UB.
[ add comment ]
( 40 views ) |
permalink
|





( 3 / 1718 )
---
You can see it on tUBe at:
LEWS Video link
Yeah, we know, it's not going to win the Prix d'Or at Cannes but it does showcase Eammon's pretty damn good editing/animation skills.
[ add comment ]
( 15 views ) |
permalink
|





( 3 / 1148 )
---
Brian will be working 0.5 to the end of the year and anticipates his days of work being Wednesday and Thursday with some time floating to enable visits to Schools and other activities.
Building on the work of Tom Keogh last year, Brian will be working with Schools and third party providers to encourage the use of Turnitin and to promote the positive benefits to students beyond the somewhat intimidating perception that it's just about catching villains.
Brian can be contacted on x6254 and his email is
b.martin@ballarat.edu.au
.
[ add comment ]
|
permalink
|





( 3 / 1667 )
---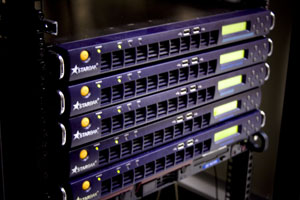 Eammon : "
Starbak
is finally online again after hibernating for a number of months. We'd like to contain its use to recording H.323 calls only and focus on
tUBe
(particularly in the near future when we move to V2.0) as the University's main video distribution system. Many thanks to Ian and Marcus for their help with getting it back online. Anyone requiring an account, please email me a request:
e.jones@ballarat.edu.au
Speaking of which, tUBe hit
one hundred
uploaded videos today. Considering it was only implemented towards the end of '07, the uptake is really encouraging! Of those hundred videos, there were
2200 individual video views
over the past 5 months. Very promising. Big thanks to Steve Pallett and Matthew Elvey for their continued work behind the scenes."
[ add comment ]
|
permalink
|





( 3 / 1573 )
---
Discussion heats up around use of external web services in academia
With the extremely rapid take up of Web 2.0 services and the rise of social networking, many universities are grappling with the issue of how to manage external services such as Facebook, ELGG, MySpace, Second Life and so on. This becomes a critical issue when students and staff want to use these services as part of the teaching and learning process. Content on external sites is outside the provenance of an individual university which raises issues for assessment, validation, auditing, authentication and more. Further, there is the potential for content to suddenly become unavailable if a service provider changes access or ownership arrangements such as when a formerly open, free service becomes a commercial service.
Universities around the world are tackling this issue and seeking to develop policy responses. In Australia, ACODE (Australasian Council on Open, Distance and E-Learning) are pulling together a number of local efforts and are facilitating a discussion across their members. Prior to the next ACODE workshop in June, I expect there will be a day where this will be discussed in depth. More here following that workshop.
[ 1 comment ]
( 119 views ) |
permalink
|





( 3 / 1599 )
---
Next