Brian will be working 0.5 to the end of the year and anticipates his days of work being Wednesday and Thursday with some time floating to enable visits to Schools and other activities.
Building on the work of Tom Keogh last year, Brian will be working with Schools and third party providers to encourage the use of Turnitin and to promote the positive benefits to students beyond the somewhat intimidating perception that it's just about catching villains.
Brian can be contacted on x6254 and his email is
b.martin@ballarat.edu.au
.
[ add comment ]
|
permalink
|





( 3 / 1667 )
---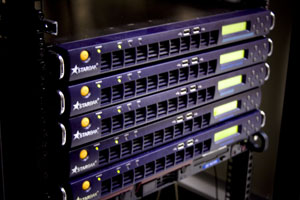 Eammon : "
Starbak
is finally online again after hibernating for a number of months. We'd like to contain its use to recording H.323 calls only and focus on
tUBe
(particularly in the near future when we move to V2.0) as the University's main video distribution system. Many thanks to Ian and Marcus for their help with getting it back online. Anyone requiring an account, please email me a request:
e.jones@ballarat.edu.au
Speaking of which, tUBe hit
one hundred
uploaded videos today. Considering it was only implemented towards the end of '07, the uptake is really encouraging! Of those hundred videos, there were
2200 individual video views
over the past 5 months. Very promising. Big thanks to Steve Pallett and Matthew Elvey for their continued work behind the scenes."
[ add comment ]
|
permalink
|





( 3 / 1573 )
---
Discussion heats up around use of external web services in academia
With the extremely rapid take up of Web 2.0 services and the rise of social networking, many universities are grappling with the issue of how to manage external services such as Facebook, ELGG, MySpace, Second Life and so on. This becomes a critical issue when students and staff want to use these services as part of the teaching and learning process. Content on external sites is outside the provenance of an individual university which raises issues for assessment, validation, auditing, authentication and more. Further, there is the potential for content to suddenly become unavailable if a service provider changes access or ownership arrangements such as when a formerly open, free service becomes a commercial service.
Universities around the world are tackling this issue and seeking to develop policy responses. In Australia, ACODE (Australasian Council on Open, Distance and E-Learning) are pulling together a number of local efforts and are facilitating a discussion across their members. Prior to the next ACODE workshop in June, I expect there will be a day where this will be discussed in depth. More here following that workshop.
[ 1 comment ]
( 119 views ) |
permalink
|





( 3 / 1599 )
---
Cat starts with us on Monday April 14.
[ add comment ]
|
permalink
|





( 3 / 1619 )
---
This position works closely with academic staff and our Learning Designer to provide support in the selection and development of various resources for use in online delivery. These typically could include illustrations, animations, quizzes and rich media (audio/video) items.
Jaimee joins us on Monday March 17. Look out for her profile on our
staff profile page
soon after she starts.
It is very gratifying to find an outstanding applicant among UB's own recent graduates and reinforces the quality of students and teaching to be found at UB.
[ add comment ]
( 31 views ) |
permalink
|





( 3 / 1455 )
---
This will provide much more rapid turnaround for student enrolments into Blackboard sections.
Jobs should be logged through the Servicedesk in the usual way and provide the following information:

1. Blackboard Section Name

2. Unit Code

3. The campus students are based at (in UBSAS parlance, 'provider location')

4. Optimal date to add students (i.e. when most students have completed their UB enrolment process)

[ add comment ]
|
permalink
|





( 2.9 / 1633 )
---
UB Careers Website
and were advertised on Seek and in the Ballarat Courier on Feb 2 2008.
Applications close on Sunday Feb 17 2008.
[ add comment ]
|
permalink
|





( 3 / 1566 )
---
Following a 'LEWS' planning sesssion last Friday, we shall be introducing an upgraded website in March. The aim of the new site is to make information regarding learning technologies and the people that support them at UB more accessible. We're still in the planning stages at the moment, but watch this space...
[ add comment ]
|
permalink
|





( 3 / 1524 )
---
Gliffy.com
that depicts the learning technologies we have at UB (well, at least the way I see them so far!). I must say that the number of applications I'm finding on the Internet is quite overwhelming - lots of potential there! I'll be trying to add them to this blog as I come across them in future...
Questions and corrections welcome >
s.pallett@ballarat.edu.au
or x9797.
[ add comment ]
|
permalink
|





( 3 / 1499 )
---
The package allows you to try out several environments:
Mahara - ePortfolio software
eLGG - social networking software, useful for podcasting, as used
here
.
tikiwiki - wiki and groupware software, as used
here
.
Moodle LMS - alternative to Blackboard, as used
here
.
You can download the package and instructions
here
.
[ add comment ]
|
permalink
|





( 2.9 / 1444 )
---
Back
Next