Cat starts with us on Monday April 14.
[ add comment ]
|
permalink
|





( 3 / 1619 )
---
This position works closely with academic staff and our Learning Designer to provide support in the selection and development of various resources for use in online delivery. These typically could include illustrations, animations, quizzes and rich media (audio/video) items.
Jaimee joins us on Monday March 17. Look out for her profile on our
staff profile page
soon after she starts.
It is very gratifying to find an outstanding applicant among UB's own recent graduates and reinforces the quality of students and teaching to be found at UB.
[ add comment ]
( 31 views ) |
permalink
|





( 3 / 1455 )
---
This will provide much more rapid turnaround for student enrolments into Blackboard sections.
Jobs should be logged through the Servicedesk in the usual way and provide the following information:

1. Blackboard Section Name

2. Unit Code

3. The campus students are based at (in UBSAS parlance, 'provider location')

4. Optimal date to add students (i.e. when most students have completed their UB enrolment process)

[ add comment ]
|
permalink
|





( 2.9 / 1633 )
---
UB Careers Website
and were advertised on Seek and in the Ballarat Courier on Feb 2 2008.
Applications close on Sunday Feb 17 2008.
[ add comment ]
|
permalink
|





( 3 / 1566 )
---
Following a 'LEWS' planning sesssion last Friday, we shall be introducing an upgraded website in March. The aim of the new site is to make information regarding learning technologies and the people that support them at UB more accessible. We're still in the planning stages at the moment, but watch this space...
[ add comment ]
|
permalink
|





( 3 / 1524 )
---
Gliffy.com
that depicts the learning technologies we have at UB (well, at least the way I see them so far!). I must say that the number of applications I'm finding on the Internet is quite overwhelming - lots of potential there! I'll be trying to add them to this blog as I come across them in future...
Questions and corrections welcome >
s.pallett@ballarat.edu.au
or x9797.
[ add comment ]
|
permalink
|





( 3 / 1499 )
---
The package allows you to try out several environments:
Mahara - ePortfolio software
eLGG - social networking software, useful for podcasting, as used
here
.
tikiwiki - wiki and groupware software, as used
here
.
Moodle LMS - alternative to Blackboard, as used
here
.
You can download the package and instructions
here
.
[ add comment ]
|
permalink
|





( 2.9 / 1444 )
---
[ add comment ]
|
permalink
|
related link
|





( 3 / 1301 )
---
Well, a few interesting things have been happening as 2007 draws to a close. Our
Elluminate Live!
trial is now officially underway, and staff have expressed considerable enthusiasm for the potential this new tool brings following the workshop held at Mt.Helen on 9 November.
I've been doing a fair bit of research into easy methods for Higher Ed. staff to conduct podcasting (and possibly 'vodcasting') and have recently installed an application named
eLLG
- a social networking platform similar to MySpace and Facebook that allows users to create profiles and upload audio and video files for sharing (amongst other possibilities). I'll be running a workshop on 7 December based on this podcasting process.
I've also been looking into the wider area of
social media in education
and this has thrown up some sticky issues to do with privacy, copyright, and equity of access. The educational potential is great, but right now our legal team are looking into some of the implications for UB policy. The outcome will impact upon our adoption of internal and external services, and this grey area is something that many Australian Universities are currently grappling with.
During last week's eLearning Interest Group's meeting a number of issues were raised and debated, including the future landscape of learning technology. What technologies will UB be looking at five years from now? Are Learning Management Systems old-hat? Where is 'web 2.0' going? There are no simple answers to these questions, of course. But the more we think about them, the better-prepared we'll be for the future at UB.
I look forward to seeing some of you at next week's workshop and at the next eLIG meeting. Remember you can give me a call (X9797) or email (s.pallett@ballarat.edu.au) if you'd like to discuss anything you have in mind...
[ add comment ]
|
permalink
|
related link
|





( 3 / 1315 )
---
Elluminate Live
I am in the process of arranging a 12 month trial of Elluminate Live. We have the quote and I've asked Legal to look at the contract and following that, will arrange the order. The trial will run from November 2007 to end of October 2008. The licence will provide us with one virtual classroom with 25 concurrent students. We've yet to work out a booking system but that won't be needed until next year. Steve or I will handle bookings until then. In the meantime, I'll advise of when it's available and we will probably use our second Tech Workshop to introduce it and play with it. (That is scheduled for Nov 9.)
eActivity Survey
The survey we've talked about is now active at:
eLWiki
and you can fill in a form about the interesting stuff you've been doing. This can be about technology, a particular project, an approach to innovative learning and so on. Don't feel reticent - often stuff you are doing is of interest to others even if you think it's a bit mundane.
Learning Environments Staffing
I have just renewed my attempts to get the Learning Designer positions through HR and am moderately optimistic. It's becoming critical with timelines so this needs to happen quite soon. I have a PD approved for a Educational Resource Developer but won't be moving to fill that until the Learning Designer positions are filled and I have an idea of how the budget looks at that point.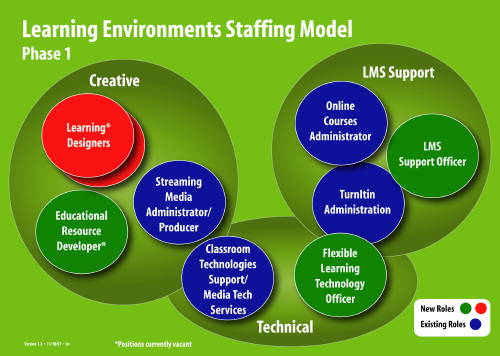 Turnitin responsibility coming to Learning Environments
Responsibility for the administration of the Turnitin plagiarism detection project is about to come under the auspice of the Learning Environments team. With Tom Keogh finishing in the role he has been holding for much of 2007, we'll be looking to appoint someone to pick up this role. At this stage I'm unclear what the fraction will be and what the full scope of the role will be. It is a logical function to have sitting in the LE team.
[ add comment ]
|
permalink
|





( 3 / 1455 )
---
Back
Next