Was on the first Emirates flight into Heathrow after volcanic shutdown - Airbus A380-800 - big mother! Great cheering and clapping when it landed. Record passage through passport, customs and my bag on carousel within minutes. Off plane and out of Heathrow in about 20 minutes and into taxi. Then bus (3hrs) to Nottingham. I think I deserved a drink in England's oldest pub after that.
OK, this will be the end of the travelogue - after this my entries will focus on why I'm here.
Great to be back on track.
[ 3 comments ]
( 131 views ) |
permalink
---
Sorry, must dash!
[ 1 comment ]
( 111 views ) |
permalink
---
Emirates flights have now started to locations in Europe and possibly Scotland. The flight I was originally scheduled to go on, at 1.35pm local time, is still marked as possible. What I don't know is if I'll be on today's (if it goes ahead) or a later day. Hopefully, given that I arrived just as the drama started, I'll be on one of the first flights out.
The other complication is whether the new ash cloud will once again close UK airspace. The news via Skynews and the BBC is a bit pessimistic so it's a waiting game even more than before.
The advice here is to hang around the hotel and if a flight is to go, passengers here will be contacted and will need to get moving.
A balmy 32c here today in Dubai.
Five free nights now courtesy of Emirates Airlines.
Some facts (?) courtesy of taxi drivers and other dubious sources
- There are 195 different nationalities here
- There are about 300k local people with the rest being workers from elsewhere
- Taxi drivers are pretty much all from Pakistan
- Hospitality staff are typically from Malaysia or Indonesia
- There's a strong UK presence - power is 250v and sockets are UK
- English gets you by more or less - the Asian hospitality staff have good English, the taxi drivers very variable
- The city as we see it now (and there are a number of conglomerations of high rises around the Dubai landscape) have been built in about the last 15-20 years
- I've seen both Rip Curl and Billabong outlets in the big malls
- There are immaculately turned out security guys all over the malls and there is a sense that this is a safe community
[ 2 comments ]
( 112 views ) |
permalink
---
Producing a video workshop resource
I've started working on a video to use in my workshops. Essentially I'm interviewing a number of people about an effective/memorable learning experience in their university experience and what they thought made it effective. The goal is to unpack their key points (in the workshops) and look at how they can or do translate into the online environment as significant pointers for online pedagogy.
These are just short pieces edited into one conversation starter. I've done three interviews and will do a couple more today to complete it. I'm also going for a culturally diverse mix - have a German, an Austrian and an English person. Have a South African lined up for today and would like to find an Asian participant. It's turning out to be fascinating, lots of fun and makes the time here productive.
When it's done, I'll put it online.
I've now had to cancel/postpone my first two visits and the third to Nottingham late this week is in doubt. It is a rich program so I'll be very disappointed if it doesn't go ahead. If the delays look like continuing into next week then I'll consider cancelling the whole trip and rescheduling it for later in the year. I don't have much flexibility to extend the trip this time but will explore that option too.
[ 2 comments ]
( 117 views ) |
permalink
---
Here's a montage of some of my pic's. The bloke on the top left made me a beautiful cup of tea in the classic Indian way, with condensed milk. It was so good I had two.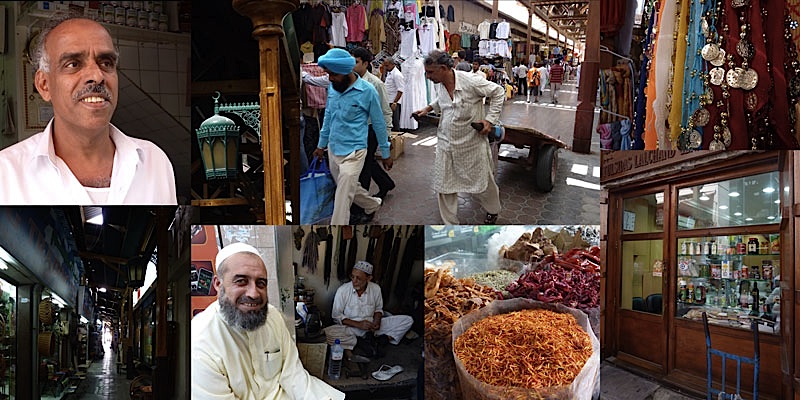 This has made the unscheduled stay in Dubai all worthwhile. I'm not sure it has a lot to do with eLearning but I certainly saw a lot of evidence of learned sales techniques from the vendors who all but drag you into their shops. I did succumb once but was quite happy with the outcome.
Travel still unclear - still no flights into the UK at time of writing. Tomorrow I'll need to get refocussed on my work and may spend a day in the virtual office unless the skies clear and the travelling begins.
Probably worth noting Emirates Airlines' response to the crisis. All their passengers have been given three nights free accommodation with all meals included. That's pretty remarkable. They've completely redeemed themselves in my eyes after my early baggage glitch.
I've set up a Flickr account but Dubai has Internet censorship and Flickr is blocked so I haven't been able to upload pic's there. I've only ever seen innocuous stuff on Flickr so that intrigues me a bit. When I've got something up I'll post the link here.
[ 1 comment ]
( 105 views ) |
permalink
---
It seems unlikely that planes will begin flying into the UK today (Saturday) or not until late in the day. There are probably thousands of passengers waiting here so getting a flight will be tricky. I understand Emirates are going to try and do it in some sort of order emulating arrivals and the previous schedule but time will tell.
Went into the shopping part of Dubai yesterday. A bit overwhelming and not to my taste. Heading for the Old Dubai today which sounds much more my cup of tea.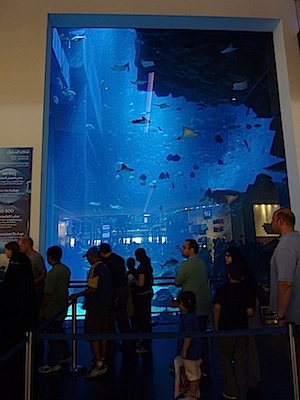 There's a sense here of assertively moderating the reality of the desert's harshness. In a very large mall, I came across this aquarium. It's the same mall that has an ice skating rink and some stunning water features.
For the record, United Arab Emirates are six hours behind Australian time. As I write this it's 9.30am here and 3.30pm at home.
Have managed to reschedule my Monday appointment to the end of my trip. If things get tight will try and do that with my second, LSE, scheduled for Tuesday.
Oh yeah, my bag turned up so now I'm a happy, sweet smelling camper.
[ 2 comments ]
( 112 views ) |
permalink
---
So now I'm staying for at least one night in Dubai.
Here's a pic of the queues waiting at passport control.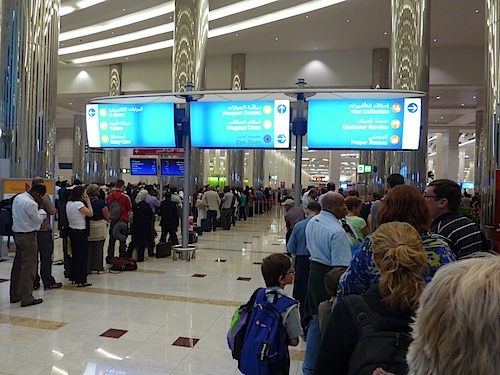 Oh, and did I mention my luggage wasn't on the carousel? I was assured it will be delivered to the motel 'later'. After 40 hours on the go I think a shower would be the socially responsible thing to do and of course, all my toiletries are in the checked luggage.
Update: Luggage found and being delivered tonight.
Well, that turned out to be loosely. Then 6am this morning (it's now the next day) and it's 8am and still the phantom luggage proves elusive. Emirates assures us they have it - just that gap between airport and motel proves to be a problem!
Doesn't look hopeful for leaving today either, UK airspace closed until at least 5pm Friday (local UK time).
Traveller's Tip #1: Don't fly when a strategically located volcano is about to erupt.

[ add comment ]
|
permalink
---
You can see the Itinerary at this
direct link to my Itinerary (pdf, 31K)
.
I'm also trying to keep some flexibility for ad hoc visits but this is quite limited.
[ add comment ]
|
permalink
---
In the first LEWS News for the year I talk about my trip. You can watch it at:
http://www.ballarat.edu.au/lews/news/le ... 10-1.shtml
(65MB, Quicktime)
I'm not quite down to counting sleeps but as I get the paperwork sorted and settled, the potential of the trip is coming to the top. I'm pretty excited!
[ add comment ]
|
permalink
---
I've also offered to facilitate a two hour workshop and the document includes an overview of what this might cover.
Link to document "Interest Areas/Workshop Offer" (pdf, 40K)
-----------------------------------------------------------------
Starting to confirm itinerary
My travel dates have firmed up to leaving around April 14 and returning around May 13.
I now have confirmation of dates of visits to the London School of Economics and the University of Nottingham. I'm negotiating dates with University of Leicester, Glasgow Caledonian, Edinburgh and University College London. I've had three non-responses from institutions that will remain nameless! I'm also planning to visit the Open University and will schedule that around the other visits.
[ add comment ]
|
permalink
---
Next