Learning and Teaching Conference
From my point of view the L&T Conference was a bit of a blur as I did a headless chook impersonation for most of the day. From the verbal feedback I heard people were pretty happy. We forgot to promote the feedback sheets on the day so probably don't have much in the way of written feedback. It may just be possible that we'll do an online feedback process but that depends on my load in the next month.
The audio of Matthew Allen's keynote is available at the
Learning and Teaching Conference website
. (It's a big file so if you only have dial-up, don't bother.)
The activity and focus of the conference meant I didn't organise an eLearning Interest Group meeting for July (and there won't be one in August but read on).
Learning Environments
I've been flat out with the recruiting process and we've just now selected a
Learning Management System Support Officer
, (the support role to Lloyd) who will start with us on September 10 and a
Flexible Learning Technology Officer
(FLTO) who will start with us on September 3. Many of you will know the LMSSO who is
Clair McCready
, currently with the myIT@UB Servicedesk. The other role will be taken by Steve Pallett, who has an interesting career path from Mechanical Engineer through computer related stuff to working on a Masters in Educational Technology. He's a real find and has come to us from Britain via NZ.
The Learning Designers are the next cabs off the rank and when I come back to work at the end of August I'll be attacking HR again over those roles.
Coming Back? From where?
For the week of Aug 20 to 24, I'll be participating in the ACODE Learning Technologies Leadership Institute on the Gold Coast.
ACODE Website
Really looking forward to this and will report back in the near future.
Whatever happened to the Interest Group meetings?
Well, the business of getting the Learning Environments up and running has consumed me recently. The good news is that when our FLTO starts in early September I'm going to get him onto a number of jobs around the eLIG as well as introducing him at the September meeting. Projects include the benchmarking/audit of who's doing what at UB and the technology workshops for indepth looks at some of the new technologies. These will be half or full day sessions for people who want to dig more deeply into some of the new technologies. A complement to the tasters at the L&T conference.
Please send me your suggestions for themes for these workshops.
Money!
I spoke to the Learning and Teaching Committee and received approval for the plan to spend the $50K allocated last year. This means there's money for experimental activity such as setting up an Elluminate trial, for purchasing bits and pieces of software and hardware to explore and the technical workshops and forums. At the next meeting we'll discuss a process for managing this so there's sufficient but not oppressive governance.
So, that's it from me for now from here.
[ add comment ]
|
permalink
|





( 3 / 1141 )
---
Link to article
Rose Grozdanic
[ add comment ]
|
permalink
|





( 2.9 / 1096 )
---
We now have a wiki available for you to play with. It's there for you to trial and not the latest version (owing to the environment available on our corporate webserver). I don't know much about wikis so look forward to seeing how it evolves. Please feel free to do what you want with it. (It's externally accessible too.)
UB's Trial Wiki available from this link.
The direct URL is
www.ballarat.edu.au/projects/wiki/
Ian Wright
[ add comment ]
|
permalink
|





( 3 / 1107 )
---
blended learning
interesting and thought it worth sharing. The statement "One of the major threats for blended learning is the lack of knowledge of blended learning authors about their learners" is really important for UB international programs in particular, where there are failure rates sometimes as high as 80%. I also found the following report on
ePortfolios (2.5MB Word Doc.)
really interesting. IK
[ 1 comment ]
( 3 views ) |
permalink
|





( 3 / 1135 )
---
Learning and Teaching Conference
The annual UB Learning and Teaching Conference is on this Friday. It's looking like a very stimulating program with an emphasis on flexible learning. There will be plenty of technology around but we're trying to strike a balance between talking about the social elements as well as the tech toys. I'm quite involved so that's been taking a bit of focus.
Learning Environments
We have now advertised two of the positions in the new Learning Environments project. The Flexible Learning Technology Officer (to explore, implement and support a range of technologies, from server level applications like Sakai, LAMS etc to standalone technologies) and the Learning Management Systems Support Officer, the support position for Lloyd Stinton managing Blackboard administration.
I still need to finalise the PDs for the Learning Designer(s) and advertise those. This has been very difficult with HR and I fundamentally disagreeing on the appropriate levels for these positions.
Funds for eLearning Interest Group
The Learning and Teaching Committee agreed broadly with our proposal for the expenditure of the $50K. We have $20K for an audit/knowledgebase of flexible activity at UB (to be web accessible, flexible and updateable online to keep it current), $20K for exploring and evaluating technologies, both hard and soft, and $10K for some intensive workshops on technologies. I'll be keeping an ear out for burning interest areas from the conference and suggesting those as themes for these workshops. There is also a bit of money for staff to visit other institutions to explore specific technologies/approaches/practices.
We will have some sort of low impact submission and evaluation process for any funded activities/purchases. As an early initiative, I'll be following up a trial of Elluminate, a virtual classroom system.
That's about it for now. Just give me a call on X9585 if you'd like to know more.
Ian Wright
Manager, Web Services and Learning Environments
[ add comment ]
|
permalink
|





( 3.1 / 1113 )
---
PBS documentary
shows what happened when a guy working in an IT firm in India set up a computer in a "hole in the wall" facing the slum next door. Almost immediately, children began using the computer and within a day they'd taught each other rudimentary internet skills.
Worth watching if you can find a spare 8 minutes.
rose grozdanic
[ add comment ]
|
permalink
|





( 3 / 1135 )
---
Link to movie of ASMS and an innovative teaching space at UQ
This is a big (26Mb) Quicktime movie so don't try it from home without broadband.
On Wednesday June 27, Leeanne Pitman, Carmel Grant, John Dixon and I (all from Information Services) went to Adelaide on UB business. The trip included a visit to the Australian Science and Mathematics School that is located on the campus of Flinders University. This is an extremely unusual secondary school covering years 10-12 with a strong emphasis on (yep!) Science and Mathematics.
Their website is at
http://www.asms.sa.edu.au/
so you can read about it there. We went to look at it for some background to the planning for the Technical Education Centre being established on the SMB campus. The configuration of teaching spaces, management of students and curriculum are all quite different to a conventional school. We were fascinated by what we found. Not for everyone, or for all teachers but an exciting and stimulating environment. The openness of the spaces, the overlap of activities and the general hubbub were testament to the capacity of the current secondary school cohort to operate in visually and aurally busy environments seemingly without loss of concentration, something others of us find challenging.
I have taken some video footage and will edit it into a short presentation soon. Keep an eye on this spot for the link to the video.
Posted: Ian Wright
[ add comment ]
|
permalink
|





( 3 / 1120 )
---
BBC
will available for free on-demand download from the end of July.
Another page that I subscribe to that has some interesting articles at the moment is
elearningeuropa
. The EU is putting a lot (millions) of Euros into eLearning and open learning.
IK
[ add comment ]
|
permalink
|





( 3 / 1120 )
---
Some Good ProgressFunding from Learning and Teaching Fund
I attended the last Learning and Teaching Committee meeting and spoke to our proposal (see link to original document below) for using the $50K we'd been allocated. The Committee approved our plans and provided some constructive feedback. I will rework the document very soon and post the modified version here. The key components were approved but with some slightly altered priorities.
I'll be looking to the next eLearning Interest Group (eLIG) meeting to set in place plans to start implementing the proposals.
Learning Environments Positions through HR
With the exception of the Learning Designer position, the other three positions have been classified at agreed levels by HR. This clears the way to advertise these positions. This will take a couple of weeks and we'll need to ensure that the timing allows for maximum exposure.
While the views of HR and me on the appropriate level for the Learning Designer role are different we have a way forward with the classification being a HEW 7 but with an option for a loading for experience and expertise. This may get the position to a level that will attract applicants of suitable calibre.
Staffing Illustration
The following image is a work in progress of the blend of existing and proposed positions within the Learning Environments project. Some of the titling will change as I'm working with an earlier image.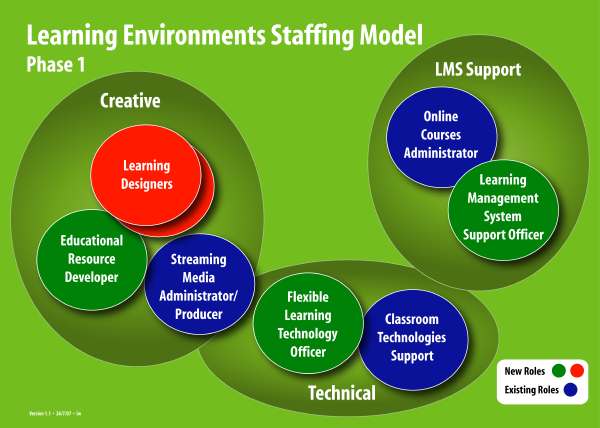 Posted: Ian Wright
[ 1 comment ]
( 17 views ) |
permalink
|





( 3 / 1048 )
---
Meeting Times and Participation Rates
Given the relatively small turnup at the last couple of meetings we're wondering if the time is a problem for people or if there's some other reason. Please email me with your feedback and suggestions for more suitable times, themes, presentations, locations etc.
Learning and Teaching Funding
Last year we were allocated $50k in funding from the Learning and Teaching Fund. DVCAR was keen to know what this has been spent on and the answer is, nothing yet. We discussed some options at the meeting and followed up with another discussion on Friday. I have put together a proposal that has gone to the DVCAR and which I'll be speaking to at the Learning and Teaching Committee meeting on Tuesday next.
We can initiate these projects very quickly and following Tuesday's discussion I'll let you know how we'll be proceeding.
Get the document
from this link
.
Learning Environments Project
Work is progressing on the Learning Environments project. I have just finished the PDs and am trying to get them through HR at the levels I know they need to be at. This is proving difficult but I think we'll get there.
I'm working to move my two page overview document into a project management format and when that's done, I'll make it available. I was to speak to it at the Vice-Chancellor's Senior Team meeting next week but it's been moved off the agenda for now. The funding has been approved so now it's just all the grinding administration to get ready to employ people.
The roles again are
Learning Designer(s), Learning Technologies Support Officer, Educational Resource Developer and Learning Management Systems Support Officer.
The last is to understudy Lloyd in the administration and support of Blackboard.
Access to eLearning Mailing List
At present you can't access the eLearning Mailing List I've set up in Groupwise. I can make it available to you on request so you can post to the full list. Does anyone want this access? Does anyone not want this done? Let me now either way and I'll make a benevolently dictatorial decision.
Hooroo
Ian Wright
[ add comment ]
|
permalink
|





( 3 / 1028 )
---
Back
Next