Google Apps
Education Edition to see what all the fuss was about.
This has great potential as a collaboration tool for students (and indeed, staff) with the ability to share documents and web sites, as well as contacts and calendars. Macquarie University
became the first Australian university
to give all its students customised Google email accounts in 2007, a trend which is also becoming popular overseas as administrators look to reduce their overheads and whilst increasing functionality.
We haven't gone that far yet. We're hoping to run a trial with
Student & Learning Support
in the coming weeks; word processed documents may be shared in real-time as staff assist distance students with writing skills. Instant Messaging, VoIP (voice over Internet) or plain old telephones will allow for the verbal communication.
We don't have our directory system integrated with Google Apps yet, so if you're wanting to try it out, you'll need to contact me to add you as a user. You can, of course, use a non-UB email address to
sign yourself up
instead.
Stay tuned...!
[ 1 comment ]
( 9 views ) |
permalink
|
related link
|





( 3 / 915 )
---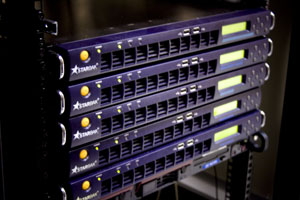 Eammon : "
Starbak
is finally online again after hibernating for a number of months. We'd like to contain it's use to recording H.323 calls only and focus on
tUBe
(particularly in the near future when we move to V2.0) as the Universities main video distribution system. Many thanks to Ian and Marcus for their help with getting it back online. Anyone requiring an account, please email me a request:
e.jones@ballarat.edu.au
Speaking of which, tUBe hit
one hundred
uploaded videos today. Considering it was only implemented towards the end of '07, the uptake is really encouraging! Of those hundred videos, there was
2200 individual video views
over the past 5 months. Very promising. Big thanks to Steve Pallete and Matthew Alvey for their continued work behind the scenes."
[ 2 comments ]
( 10 views ) |
permalink
|





( 3 / 906 )
---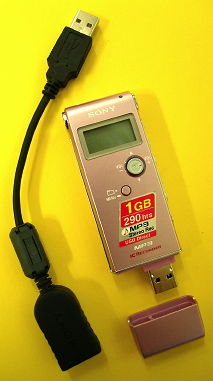 We are taking orders from staff who want to piggy back on our order. The units are $180 each ex GST.
You'll need to get to me quick though - I'll be ordering by Monday April 21.
I'm at
i.wright@ballarat.edu.au
[ add comment ]
|
permalink
|





( 3 / 1020 )
---
Sony's online store
.
I have ordered one for evaluation and it should be here in a few days. I have been evaluating a near identical Olympus product and that has been very impressive. I'm looking at the Sony because it does native MP3 whereas the Olympus does WMV.
We have a buy price of around $190 ex and subject to a successful evaluation, I will be ordering a number to offer for loan via MTS at Mt Helen and SMB. I'm also happy to add individual orders to our bulk purchase and already have a few extras on my list. Just let me know if you're interested.
I expect to be ordering around April 17 so you'll need to let me know prior. If the device proves unsuitable I'll let everyone know and add an entry here.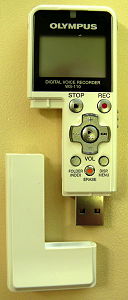 This is the Olympus. The Sony is very similar and also has the convenient snap apart USB function. You just plug into PC/Mac USB port and drag and drop the audio file onto your computer.
[ add comment ]
|
permalink
|





( 3 / 1011 )
---
I recently had a request for advice on document conversion from Word and Powerpoint to PDF. Mac users and the few of us who use the free
Open Office
or enhanced
Oxygen Office
can already export to PDF. But what about everyone else?
Enter
PrimoPDF
, which installs itself as a Windows printer, allowing you to export to PDF from Word, Excel and Powerpoint directly from the File>Print menu. It's free, and it works well (no trial period or watermarks).
Going a step further, the free
AuthorPoint Lite 2
for Windows lets you convert any Powerpoint presentation into a Flash file (.swf) that can be published as a web page. Why bother? Publishing your presentations this way increases their accessibility (usually a reduced file size, and no need for Powerpoint software to be loaded on the viewer's computer) and also helps to protect your intellectual property - it's much harder to edit a published Flash file than a Powerpoint file. Flash files can also be imported into Blackboard, and viewed without having to leave the web browser environment.
[ 2 comments ]
( 13 views ) |
permalink
|





( 3 / 1017 )
---
I came across
this take
on LMS vs. PLE (mashups?) some of you may be interested in...
"
Today's learning management systems can be perceived as islands – islands in the vast sea of learning possibilities the World Wide Web offers. Not only content can be obtained, refined and selected; learners can also adopt those tools which are important for their purposes, create their own and individual learning portals, tag content or register RSS feeds informing about news relevant to them.

The keyword web 2.0 makes it possible: Moving away from standard learning management systems ("one for all" technique) to personalised learning environments ("one for me" technique) consisting of snips, bits and pieces, collections of tools and services which are bundled to individual and/ or shared landscapes of knowledge, experiences and contacts. It is a shift from the island paradigm of the LMS technique to understanding the web as a door, a portal to learning opportunities.

While we have already claimed individualisation of education through e-learning in the past, personalised learning environments are now truly offering it.
"
Any thoughts?
[ 3 comments ]
( 110 views ) |
permalink
|
related link
|





( 3 / 981 )
---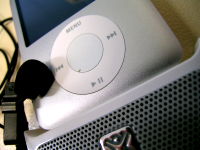 We want the recording phase to be easy and to minimise the post-processing of audio. When they become available we'll also have a set of easy instructions to accompany them.
The idea is for a lecturer to borrow the gadget from MTS for a couple of hours, take it into the lecture to record (gadget in pocket, lapel mic), dump audio to PC then return it to MTS. Once we settle on a preferred technology we can recommend a product for those wishing to purchase their own.
[ 1 comment ]
( 39 views ) |
permalink
|





( 3 / 1035 )
---
Following a 'LEWS' planning sesssion last Friday, we shall be introducing an upgraded website in March. The aim of the new site is to make information regarding learning technologies and the people that support them at UB more accessible. We're still in the planning stages at the moment, but watch this space...
[ add comment ]
|
permalink
|





( 3 / 1062 )
---
Gliffy.com
that depicts the learning technologies we have at UB (well, at least the way I see them so far!). I must say that the number of applications I'm finding on the Internet is quite overwhelming - lots of potential there! I'll be trying to add them to this blog as I come across them in future...
Questions and corrections welcome >
s.pallett@ballarat.edu.au
or x9797.
[ 3 comments ]
( 150 views ) |
permalink
|





( 3 / 1098 )
---
The package allows you to try out several environments:
Mahara - ePortfolio software
eLGG - social networking software, useful for podcasting, as used
here
.
tikiwiki - wiki and groupware software, as used
here
.
Moodle LMS - alternative to Blackboard, as used
here
.
You can download the package and instructions
here
.
[ add comment ]
|
permalink
|





( 3 / 1043 )
---
Next