Elluminate Live
I am in the process of arranging a 12 month trial of Elluminate Live. We have the quote and I've asked Legal to look at the contract and following that, will arrange the order. The trial will run from November 2007 to end of October 2008. The licence will provide us with one virtual classroom with 25 concurrent students. We've yet to work out a booking system but that won't be needed until next year. Steve or I will handle bookings until then. In the meantime, I'll advise of when it's available and we will probably use our second Tech Workshop to introduce it and play with it. (That is scheduled for Nov 9.)
eActivity Survey
The survey we've talked about is now active at:
eLWiki
and you can fill in a form about the interesting stuff you've been doing. This can be about technology, a particular project, an approach to innovative learning and so on. Don't feel reticent - often stuff you are doing is of interest to others even if you think it's a bit mundane.
Learning Environments Staffing
I have just renewed my attempts to get the Learning Designer positions through HR and am moderately optimistic. It's becoming critical with timelines so this needs to happen quite soon. I have a PD approved for a Educational Resource Developer but won't be moving to fill that until the Learning Designer positions are filled and I have an idea of how the budget looks at that point.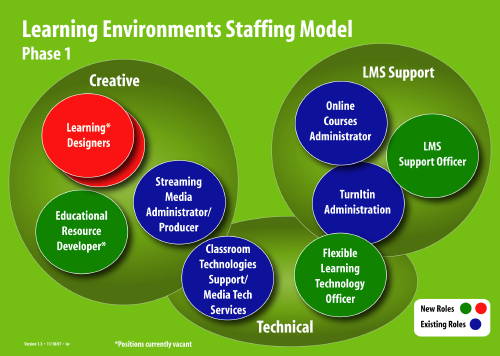 Turnitin responsibility coming to Learning Environments
Responsibility for the administration of the Turnitin plagiarism detection project is about to come under the auspice of the Learning Environments team. With Tom Keogh finishing in the role he has been holding for much of 2007, we'll be looking to appoint someone to pick up this role. At this stage I'm unclear what the fraction will be and what the full scope of the role will be. It is a logical function to have sitting in the LE team.
[ add comment ]
|
permalink
|





( 3 / 1112 )
---
First of all, a big thank you to all those who've made me feel welcome here over the last few days. It's great to be here, and I look forward to working with you in various capacities over the coming months.
Yesterday's meeting raised a couple of interesting points. With regard to expenditure proposals, e.g. for trial software, it was agreed that a short 'business case' is required before funds may be allocated. Feel free to comment on the suggested procedure below:
1. Originator of the proposal makes an entry to a shared blog (such as this one) or an internal wiki page (such as UBWiki). This entry will give a brief two or three paragraph cost/benefit (business case) overview.
2. A time frame (e.g. three days) is given for viewers to comment on ideas, concerns etc.
3. All ELIG members are alerted to the entry via email or RSS (or similar) and invited to comment.
4. At the end of the stated time frame the refined proposal is presented to Ian Wright by the originator.
5. Ian updates the blog or wiki with progress statements.
Why don't men ask for directions?
Frank Carrucan raised the issue of gender difference in attendance at Student & Learning Support workshops. Currently, 83% of attendees are female, and there is a possibility that successful implementation of technology could overcome barriers to learning for their male colleagues. Of course, it would be easy to suggest "they're just lazy..." but maybe learning preferences have a part to play in this.
What do you think?
[ add comment ]
|
permalink
|





( 3 / 1146 )
---
Learning and Teaching Conference
From my point of view the L&T Conference was a bit of a blur as I did a headless chook impersonation for most of the day. From the verbal feedback I heard people were pretty happy. We forgot to promote the feedback sheets on the day so probably don't have much in the way of written feedback. It may just be possible that we'll do an online feedback process but that depends on my load in the next month.
The audio of Matthew Allen's keynote is available at the
Learning and Teaching Conference website
. (It's a big file so if you only have dial-up, don't bother.)
The activity and focus of the conference meant I didn't organise an eLearning Interest Group meeting for July (and there won't be one in August but read on).
Learning Environments
I've been flat out with the recruiting process and we've just now selected a
Learning Management System Support Officer
, (the support role to Lloyd) who will start with us on September 10 and a
Flexible Learning Technology Officer
(FLTO) who will start with us on September 3. Many of you will know the LMSSO who is
Clair McCready
, currently with the myIT@UB Servicedesk. The other role will be taken by Steve Pallett, who has an interesting career path from Mechanical Engineer through computer related stuff to working on a Masters in Educational Technology. He's a real find and has come to us from Britain via NZ.
The Learning Designers are the next cabs off the rank and when I come back to work at the end of August I'll be attacking HR again over those roles.
Coming Back? From where?
For the week of Aug 20 to 24, I'll be participating in the ACODE Learning Technologies Leadership Institute on the Gold Coast.
ACODE Website
Really looking forward to this and will report back in the near future.
Whatever happened to the Interest Group meetings?
Well, the business of getting the Learning Environments up and running has consumed me recently. The good news is that when our FLTO starts in early September I'm going to get him onto a number of jobs around the eLIG as well as introducing him at the September meeting. Projects include the benchmarking/audit of who's doing what at UB and the technology workshops for indepth looks at some of the new technologies. These will be half or full day sessions for people who want to dig more deeply into some of the new technologies. A complement to the tasters at the L&T conference.
Please send me your suggestions for themes for these workshops.
Money!
I spoke to the Learning and Teaching Committee and received approval for the plan to spend the $50K allocated last year. This means there's money for experimental activity such as setting up an Elluminate trial, for purchasing bits and pieces of software and hardware to explore and the technical workshops and forums. At the next meeting we'll discuss a process for managing this so there's sufficient but not oppressive governance.
So, that's it from me for now from here.
[ add comment ]
|
permalink
|





( 3 / 1141 )
---
Link to article
Rose Grozdanic
[ add comment ]
|
permalink
|





( 2.9 / 1096 )
---
We now have a wiki available for you to play with. It's there for you to trial and not the latest version (owing to the environment available on our corporate webserver). I don't know much about wikis so look forward to seeing how it evolves. Please feel free to do what you want with it. (It's externally accessible too.)
UB's Trial Wiki available from this link.
The direct URL is
www.ballarat.edu.au/projects/wiki/
Ian Wright
[ add comment ]
|
permalink
|





( 3 / 1107 )
---
blended learning
interesting and thought it worth sharing. The statement "One of the major threats for blended learning is the lack of knowledge of blended learning authors about their learners" is really important for UB international programs in particular, where there are failure rates sometimes as high as 80%. I also found the following report on
ePortfolios (2.5MB Word Doc.)
really interesting. IK
[ 1 comment ]
( 3 views ) |
permalink
|





( 3 / 1135 )
---
Learning and Teaching Conference
The annual UB Learning and Teaching Conference is on this Friday. It's looking like a very stimulating program with an emphasis on flexible learning. There will be plenty of technology around but we're trying to strike a balance between talking about the social elements as well as the tech toys. I'm quite involved so that's been taking a bit of focus.
Learning Environments
We have now advertised two of the positions in the new Learning Environments project. The Flexible Learning Technology Officer (to explore, implement and support a range of technologies, from server level applications like Sakai, LAMS etc to standalone technologies) and the Learning Management Systems Support Officer, the support position for Lloyd Stinton managing Blackboard administration.
I still need to finalise the PDs for the Learning Designer(s) and advertise those. This has been very difficult with HR and I fundamentally disagreeing on the appropriate levels for these positions.
Funds for eLearning Interest Group
The Learning and Teaching Committee agreed broadly with our proposal for the expenditure of the $50K. We have $20K for an audit/knowledgebase of flexible activity at UB (to be web accessible, flexible and updateable online to keep it current), $20K for exploring and evaluating technologies, both hard and soft, and $10K for some intensive workshops on technologies. I'll be keeping an ear out for burning interest areas from the conference and suggesting those as themes for these workshops. There is also a bit of money for staff to visit other institutions to explore specific technologies/approaches/practices.
We will have some sort of low impact submission and evaluation process for any funded activities/purchases. As an early initiative, I'll be following up a trial of Elluminate, a virtual classroom system.
That's about it for now. Just give me a call on X9585 if you'd like to know more.
Ian Wright
Manager, Web Services and Learning Environments
[ add comment ]
|
permalink
|





( 3.1 / 1113 )
---
PBS documentary
shows what happened when a guy working in an IT firm in India set up a computer in a "hole in the wall" facing the slum next door. Almost immediately, children began using the computer and within a day they'd taught each other rudimentary internet skills.
Worth watching if you can find a spare 8 minutes.
rose grozdanic
[ add comment ]
|
permalink
|





( 3 / 1135 )
---
Link to movie of ASMS and an innovative teaching space at UQ
This is a big (26Mb) Quicktime movie so don't try it from home without broadband.
On Wednesday June 27, Leeanne Pitman, Carmel Grant, John Dixon and I (all from Information Services) went to Adelaide on UB business. The trip included a visit to the Australian Science and Mathematics School that is located on the campus of Flinders University. This is an extremely unusual secondary school covering years 10-12 with a strong emphasis on (yep!) Science and Mathematics.
Their website is at
http://www.asms.sa.edu.au/
so you can read about it there. We went to look at it for some background to the planning for the Technical Education Centre being established on the SMB campus. The configuration of teaching spaces, management of students and curriculum are all quite different to a conventional school. We were fascinated by what we found. Not for everyone, or for all teachers but an exciting and stimulating environment. The openness of the spaces, the overlap of activities and the general hubbub were testament to the capacity of the current secondary school cohort to operate in visually and aurally busy environments seemingly without loss of concentration, something others of us find challenging.
I have taken some video footage and will edit it into a short presentation soon. Keep an eye on this spot for the link to the video.
Posted: Ian Wright
[ add comment ]
|
permalink
|





( 3 / 1120 )
---
BBC
will available for free on-demand download from the end of July.
Another page that I subscribe to that has some interesting articles at the moment is
elearningeuropa
. The EU is putting a lot (millions) of Euros into eLearning and open learning.
IK
[ add comment ]
|
permalink
|





( 3 / 1120 )
---
Back
Next