AuSakai
) conference held at Monash University. It was a fairly low-key event, despite the presence of international guest speakers, and not as dynamic as the recent Moodle Moot conference held in Brisbane. Some of the presentations at AuSakai actually dealt more with Moodle than with Sakai, perhaps due to the larger uptake of Moodle so far in Australia.
A few key points that stood out (to me) at the conference:
1. Development of Sakai is heavily dependent on donations of time (expertise) and money by Universities and
commercial affiliates
. I'm not too sure where this leaves it in times of the 'credit crunch' and economic recession.
2. Sakai 3 looks great, with some exciting new social networking features. Due for release in June 2009 and scheduled for production use at Cambridge University in September 2009, the user interface has been drastically improved. You can sign up for an account on the development server at
http://3akai.sakaiproject.org
(use Firefox for most reliable use while it's in development). What will Sakai 3 mean to Moodle 2?
3. An evaluation of LMSs by Monash University in 2007 and 2008 highlighted some important issues:
a. Students want all of their course resources in the same place, i.e. not having to navigate various systems.
b. Students wanted a consistent look, feel, and layout on their LMS.
c. Students disliked browser configuration and plugin requirements in order to access and use an LMS.
d. Staff liked the availability of 'web 2.0' features in an LMS (e.g. blogs, wikis, podcasting)
e. Students did not want to go back to Blackboard after having used Sakai, despite their preference for the forums in Blackboard.
f. Monash currently have 3 Moodle servers in production for 3 different schools. Students have asked for consistent design and like being able to subscribe to forums.
g. Tracking (of student access and use) is not a popular feature in an LMS.
h. Students and staff see browser compatibility, portability across operating systems, Java independence and a functional 'back' button as essential to a good LMS.
i. 96% of staff thought that the ease of accessing Moodle was 'a lot better' or 'a little better' than Blackboard.
j. There was a strong preference by staff and students for ease of use over functionality in an LMS; ideally they want both.
k. Students strongly disagree with using more than one LMS in their studies; they want consistency.
4. Australian Universities currently running Sakai are using it mainly for postgraduate research and collaboration activity, with the exception of Charles Sturt University (CSU), who have expended a lot of effort to use the system as a replacement of its legacy LMS. Several universities, notably ANU, Flinders, Deakin, and LaTrobe are currently investigating the viability of replacing their proprietary LMSs.
5. The University of Southern Queensland (USQ) and the University of Canberra (UC) have had very few problems with their implementation of Moodle. UC speak highly of their partnership with
Netspot
. USQ are in the process of implementing the
Mahara
(open source) ePortfolio application, which integrates well with Moodle. They see the possible implementation of ePortfolios as either:
a. governmental/centralised - as is happening in the EU
b. local - per institution or employer with portability between systems, as USQ has chosen
c. web 2.0 - as in LinkedIn, Google Sites etc.
d. 'wait and see' (do nothing)
6. ANU academics want to stay clear of using services such as Google Docs because of concerns over intellectual property.
7. The CSU roll-out of Sakai involved an extensive training program, led by their manager of educational designers. They opted for technical training first, followed by pedagogical training. They found that the tools most commonly used in Sakai were the announcements (which can be sent out from te LMS by email), resources (uploading and display of various files), and the discussion forum. These were followed in popularity by the chat, calendar and wiki tools. Most negativity was encountered due to initial slowness and poor reliability of the system, with academics 'waiting' to see how the system could be used to enhance teaching and learning. They found it critical for academics to share their practices and experiences with others, with most credibility given to 'local' experience; this was facilitated by an 'About ICT Integration' wiki for viewing and editing by academics, and they are working on methods of reward for academics who demonstrate and share good practice.
http://csu.edu.au/division/landt/intera ... amples.htm
8. A great presentation by Mark Drechsler of Netspot addressed the difference between Moodle and Sakai from a trainer's perspective. Using the analogy of an Apple iTouch, he enthused about the ease with which new users can get to grips with, and become excited by, Moodle. In contrast, he found Sakai harder to 'sell' despite some its superior features (notably its wiki and blog engines). He also found stark contrast in the openness and richness of the respective communities when seeking documentation and forum assistance.
I hope to get hold of, and share, some of the Monash survey data mentioned above. Stay tuned...
[ 1 comment ]
( 120 views ) |
permalink
|





( 3 / 1238 )
---
http://www.infotech.monash.edu.au/resou ... er2008.pdf
Sally Firmin :)))
[ 2 comments ]
( 114 views ) |
permalink
|





( 3 / 1239 )
---
Apple have announced the holding of iPhone Tech Talks around the world and two are being held in Australia. Sydney on 19 November and Melbourne on 21 November.
http://www.auc.edu.au/iPhone+Tech+Talk
Subsidies
The AUC is offering each member University four (4) subsidised
places to send staff and students to the Leopard Tech Talk in Sydney on 19 November and Melbourne on 21 November. The subsidy consists of financial assistance in covering return economy airfares and
accommodation.
The local AUCDF Representative on each campus will assign the four subsidised positions.
Sydney and Melbourne attendees who live within a 3 hour travelling
distance from the venue are NOT eligible for any subsidy. For example, those travelling from Wollongong or Newcastle to attend the Sydney event would not be eligible for a subsidy.
http://www.auc.edu.au/iPhone+Tech+Talk+Subsidies
Registration
Those wanting to attend the iPhone Tech Talk need to register on-line with Apple as part of the iPhone Developer Program. Pleasenote that spaces are allocated on a first-come, first-served basis by Apple Inc, the AUC is NOT able to hold any places and we expect both Tech Talks to fill fast.
<http://developer.apple.com/events/iphone/techtalks/#australia>
- marnie nolton :)
[ 1 comment ]
( 9 views ) |
permalink
|





( 3 / 1351 )
---
The University of Ballarat joins iTunes U
[ 1 comment ]
( 9 views ) |
permalink
|





( 3 / 933 )
---
"Just a note that our Youtube site that archives recordings from the various performances we have worked on has registered 22,000 hits in the last 12 months. Today we find ourselves ranked as the 31st most popular Australian Music site. This follows the uploading of our latest clips from Live on Lydiard 15 which took place last week featuring 5 acts from Ballarat and 3 from Melbourne."
To access the site go to
http://www.youtube.com/ublive
"The ranking is based upon the number of videos from the site that were watched in a 24 hour period. We look forward to reaching the top 20 soon!!!"
Jef Hammersley"
Well done guys! Always great to hear about your achievements happening in your dept. Will see you at #20!
[ 1 comment ]
( 108 views ) |
permalink
|





( 3 / 937 )
---
Google Apps
Education Edition to see what all the fuss was about.
This has great potential as a collaboration tool for students (and indeed, staff) with the ability to share documents and web sites, as well as contacts and calendars. Macquarie University
became the first Australian university
to give all its students customised Google email accounts in 2007, a trend which is also becoming popular overseas as administrators look to reduce their overheads and whilst increasing functionality.
We haven't gone that far yet. We're hoping to run a trial with
Student & Learning Support
in the coming weeks; word processed documents may be shared in real-time as staff assist distance students with writing skills. Instant Messaging, VoIP (voice over Internet) or plain old telephones will allow for the verbal communication.
We don't have our directory system integrated with Google Apps yet, so if you're wanting to try it out, you'll need to contact me to add you as a user. You can, of course, use a non-UB email address to
sign yourself up
instead.
Stay tuned...!
[ 1 comment ]
( 10 views ) |
permalink
|
related link
|





( 3 / 932 )
---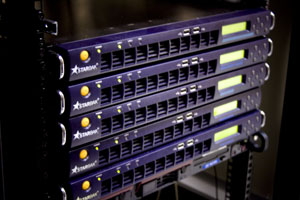 Eammon : "
Starbak
is finally online again after hibernating for a number of months. We'd like to contain it's use to recording H.323 calls only and focus on
tUBe
(particularly in the near future when we move to V2.0) as the Universities main video distribution system. Many thanks to Ian and Marcus for their help with getting it back online. Anyone requiring an account, please email me a request:
e.jones@ballarat.edu.au
Speaking of which, tUBe hit
one hundred
uploaded videos today. Considering it was only implemented towards the end of '07, the uptake is really encouraging! Of those hundred videos, there was
2200 individual video views
over the past 5 months. Very promising. Big thanks to Steve Pallete and Matthew Alvey for their continued work behind the scenes."
[ 2 comments ]
( 16 views ) |
permalink
|





( 3 / 920 )
---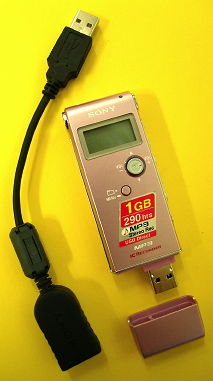 We are taking orders from staff who want to piggy back on our order. The units are $180 each ex GST.
You'll need to get to me quick though - I'll be ordering by Monday April 21.
I'm at
i.wright@ballarat.edu.au
[ add comment ]
|
permalink
|





( 2.9 / 1033 )
---
Sony's online store
.
I have ordered one for evaluation and it should be here in a few days. I have been evaluating a near identical Olympus product and that has been very impressive. I'm looking at the Sony because it does native MP3 whereas the Olympus does WMV.
We have a buy price of around $190 ex and subject to a successful evaluation, I will be ordering a number to offer for loan via MTS at Mt Helen and SMB. I'm also happy to add individual orders to our bulk purchase and already have a few extras on my list. Just let me know if you're interested.
I expect to be ordering around April 17 so you'll need to let me know prior. If the device proves unsuitable I'll let everyone know and add an entry here.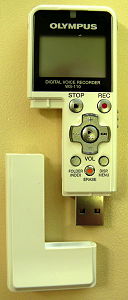 This is the Olympus. The Sony is very similar and also has the convenient snap apart USB function. You just plug into PC/Mac USB port and drag and drop the audio file onto your computer.
[ add comment ]
|
permalink
|





( 3 / 1032 )
---
I recently had a request for advice on document conversion from Word and Powerpoint to PDF. Mac users and the few of us who use the free
Open Office
or enhanced
Oxygen Office
can already export to PDF. But what about everyone else?
Enter
PrimoPDF
, which installs itself as a Windows printer, allowing you to export to PDF from Word, Excel and Powerpoint directly from the File>Print menu. It's free, and it works well (no trial period or watermarks).
Going a step further, the free
AuthorPoint Lite 2
for Windows lets you convert any Powerpoint presentation into a Flash file (.swf) that can be published as a web page. Why bother? Publishing your presentations this way increases their accessibility (usually a reduced file size, and no need for Powerpoint software to be loaded on the viewer's computer) and also helps to protect your intellectual property - it's much harder to edit a published Flash file than a Powerpoint file. Flash files can also be imported into Blackboard, and viewed without having to leave the web browser environment.
[ 2 comments ]
( 13 views ) |
permalink
|





( 3 / 1032 )
---
Next